October 19, 2017
GOLD | Professional Print Campaign of 2017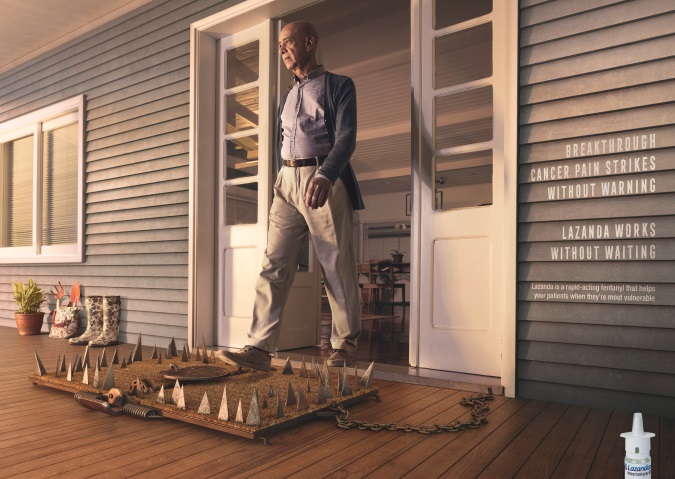 Area 23 and Depomed
Without Warning
---
Lazanda is a rapid onset opioid, delivered in nasal spray form to alleviate breakthrough cancer pain.
Judges were highly impressed by this campaign's creative concept of integrating steel traps into ordinary daily scenarios, such as brushing your teeth or going for a walk, to illustrate that breakthrough cancer pain is an excruciating experience that strikes without warning.
"Stunning visuals combined with widely recognized metaphors really deliver the suddenness of the pain," said one judge.
"The imagery is very compelling, and the campaign helped to personalize the problem," a second judge noted.
Prior to developing the effort, the Area 23 team spoke with medical oncologists, radiation oncologists, and pain management specialists nationwide to gain insight into BTPc and its treatments. The team learned that BTPc is often overlooked or undiagnosed, and it can lead to patients stopping their cancer treatment regimens.
The campaign's simple, direct copy reinforces the seriousness of BTPc and highlights the efficacy and benefits of Lazanda.
"It gives HCPs a window into the brutally harsh reality that BTPc 'strikes without warning,' so they need Lazanda, which 'works without waiting,'" an agency representative noted.
Highlighting the benefit of nasal-administration was also important given that many cancer patients experience complications that make it difficult or impossible for them to swallow.
The campaign helped drive a 20% in-crease in sales during Q1 2017.