October 19, 2017
GOLD | Use of Immersive Technology of 2017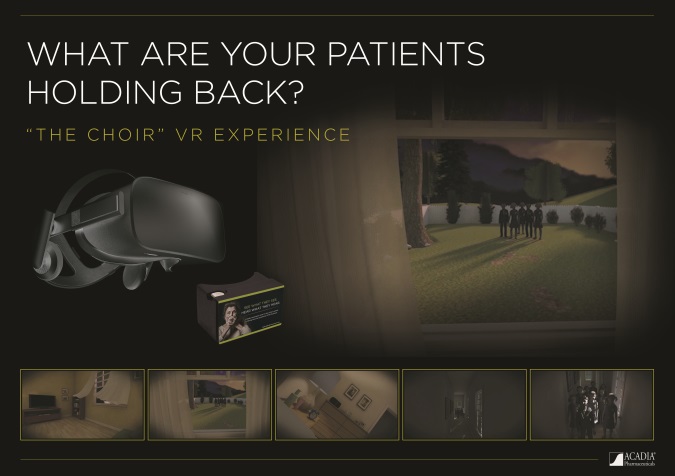 CDM New York and Acadia Pharmaceuticals
What Are Your Patients Holding Back?
---
This VR series gave HCPs a firsthand experience of the disturbing hallucinations and delusions that patients with Parkinson's disease psychosis (PDP) endure. Judges loved the approach and the fantastic results it drove, including a 32% jump in unaided awareness of PDP from 29% to 61%.
"This was an original and creative idea with a clear strategy and impactful results," said one judge.
The primary objective was to help HCPs understand and recognize PDP ahead of the launch of Nuplazid, the first and only treatment for the condition. A CDM representative noted that most HCPs were unaware that about 50% of Parkinson's disease patients develop psychosis, and many of those who knew didn't believe it was a problem. Additionally, patients who experience PDP are often afraid to talk about it.
"The use of VR was integral to the understanding of patients' symptoms," noted a second judge. "And that tied directly to progress against the campaign goals."
Adjudicators were impressed by the team's research into reported PDP hallucinations and delusions and its work with a top Parkinson's disease specialist to ensure the VR content was realistic, authentic, and scientifically accurate.
The VR experience was debuted on the Oculus Rift headset at neurology and psychology conventions in April 2016. It was also optimized for the Google Cardboard platform, which sales reps can take on office calls. Exposure to PDP information increased from 24% to 61% and as of March 2017, 13% of target physicians changed their minds and believe it's important to intervene before symptoms of PDP become severe.