April 02, 2018
MM&M unveils its Hall of Femme and Women to Watch 2018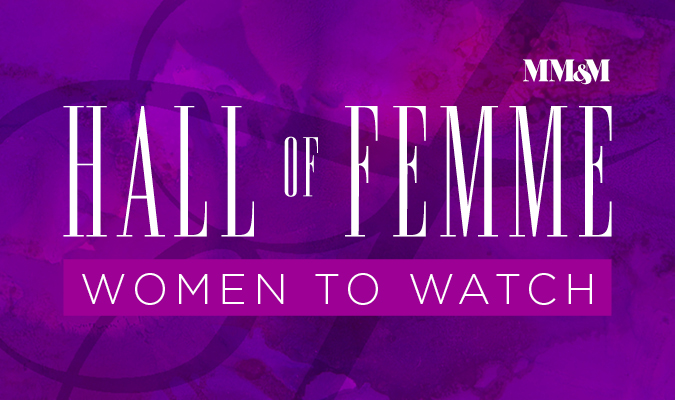 For the third consecutive year, MM&M is honoring 15 of the most-senior women in the healthcare industry with its 2018 Hall of Femme.
Many of these leaders have blazed a trail for other women to move up the career ladder. As well as this, MM&M honors 20 Women to Watch, who are aspiring healthcare commercial and marketing execs changing the face of the industry.
Check back in early June for an in-depth look at our 15 Femmes and 20 Women to Watch with profiles and Q&As.

Hall of Femme
Alisa Lask,
VP/GM, aesthetic business unit,
Galderma


Johanna Skilling,
Head of planning,
Ogilvy CommonHealth WW
Neera Chaudhary,
Global president of healthcare,
Golin
Elena Cant,
VP, global head of vaccine commercial, Takeda Vaccine Business Unit,
Takeda
Meghan Rivera,
VP, digital engagement,
AMAG Pharmaceuticals
Linda Ruschau,
chief client officer,
PatientPoint
Becky Chidester,
CEO,
Wunderman Health
Wendy Blackburn,
EVP, marketing and communications,
Intouch Solutions
Kathy Delaney,
chief creative officer,
Publicis Health
Nadine Leonard,
managing director,
Heartbeat
Deborah (Debbie) Profit,
VP, Otsuka Information Technology,
Otsuka
Wendy Lund,
CEO,
GCI Health
Susie Lodise,
SVP, group account director,
Publicis
Vanessa Thirion-Cullity,
Executive director, US NET (neuroendocrine tumor) marketing
Novartis Oncology
Genevieve Paquette,
chief marketing officer, board member
Level Ex
20 Women to Watch

Katherine Hamlet,
head of R&D communication, North America,
Sanofi
Erin Fitzpatrick,
senior director of marketing,
Pacira Pharma
Jacquelyn Bishop,
senior product manager,
Allergan Marketing
Anna Klayman,
group account director, digital,
Pathway
Michelle Petroff,
SVP - acct serv/ops,
Fingerpaint
Simonne Fuge,
account group supervisor,
McCann Echo
Nicole Hamlin,
account supervisor,
Butler/Till Health Group
Allegra Mira,
group director, analytics and data strategy,
Saatchi & Saatchi Wellness
Luciana Torres,
integrated group project supervisor,
Concentric Health Experience
Celby Richoux,
director of social strategy and planning,
Digitas Health
Ericka Higgins-Tothe,
senior director, omni-channel marketing,
Novo Nordisk
Mellisa Vraniskoski,
marketing director
Pfizer
Monique Walker,
director, digital engagement,
Amag Pharmaceuticals
Anna Maria (Mia) Garuccio,
account supervisor,
ghg greyhealth group
Laura Olenderski,
global brand manager,
Dentsply Sironoa
Lauren Wilson,
senior account executive,
Zeno
Taylor Bicchieri,
account supervisor,
Area23
Keri Hettel,
SVP, analytics,
Razorfish Health
Jennifer Stephenson,
senior director, strategic account management,
VMS BioMarketing
Jen Werther,
director of digital strategy,
Ogilvy CommonHealth
Scroll down to see the next article