June 23, 2015
BMS combo would gain heft in melanoma space, say analysts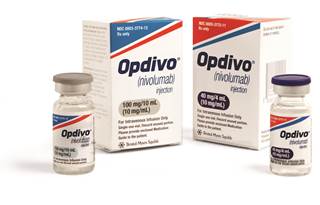 The dominant treatment in the melanoma marketplace could end up being not one but two drugs—the combination of Bristol-Myers Squibb immuno-oncology products Opdivo and Yervoy—according to market research firm GlobalData, based on findings released at the American Society of Clinical Oncology's annual meeting.
The FDA accepted the sBLA for the pairing on June 1 to treat melanoma and has committed to take action by Sept. 30. GlobalData predicts that total sales for Opdivo and Yervoy as standalone and combination treatments could reach $3.28 billion in 2023.
However, a look at what's driving the tandem's potential in the larger cancer space shows that its significance goes beyond an efficacy profile.
That is, the pairing could maximize each drug's sales in a way that cross-company cancer combinations, like the one BMS is exploring with Johnson & Johnson's Imbruvica, may not: by giving BMS pricing flexibility when negotiating with payers. The IMS Institute for Healthcare Informatics noted last month that companies, including Roche and AstraZeneca, are focused on one-company drug combinations for this very reason.
Having the latitude to negotiate is critical for marketers, because when it comes to cancer treatment, regimens are becoming ever more sophisticated. Individual drugs are not just expensive but are often one of several medications a patient may need. What's more, the length of cancer treatment is adding to costs, as pharmacy benefits manager Express Scripts observed in a report earlier this year, explaining that cancer care is now more akin to managing a chronic condition than resolving an acute disease.
The freedom to negotiate could also gain import if PBMs succeed in implementing indication-based pricing and reimbursement schemes. The model Express Scripts recently discussed seeks to pay for an oncology medication based on how the drug fares in a specific indication as opposed to paying the same price no matter the indication.
And payers aren't the only ones questioning drug pricing; a Kaiser Family Foundation poll, for example, showed that patients are skeptical about the reasons drugs may be costly and attribute high prices to factors including profit and advertising costs.
Scroll down to see the next article