October 16, 2014
AbbVie-free Shire could open new opportunities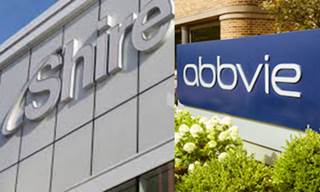 AbbVie's board of directors is urging shareholders to abandon its $55 billion offer to buy Dublin's Shire Pharmaceuticals, because new US tax rules make the move less financially rewarding. A "no" vote would dissolve what the Wall Street Journal described as this year's biggest merger, and leave AbbVie around $1.6 billion lighter after covering the break-up fee.
Wall Street punished Shire's stock price after Wednesday's announcement that AbbVie was reconsidering the deal, but analysts anticipate that an independent Shire will be in a position to seek out acquisition targets of its own. Jefferies analyst David Steinberg wrote in a Thursday research note that an AbbVie break-up "re-opens the door for several possibilities," including an Allergan/Shire alliance (which could help Allergan halt Valeant's takeover) or an Actavis/Shire pairing. Steinberg notes that an AbbVie-less Shire could even revive Salix's international vision by pairing up the Raleigh, NC, business with Shire's Dublin, Ireland, offices.
Steinberg also notes that Shire was already in acquisition mode when AbbVie offered to unite portfolios in July.
For Shire, Salix potentially offers an array of gastrointestinal drugs, Allergan offers the ever-expanding roster indications for cosmetic/medical treatment Botox, and Actavis would bring along the specialty portfolio of just-acquired Forest Laboratories and its larger OTC and generics portfolio.
Even a standalone Shire would be strong. Jefferies analyst Peter Welford wrote in an Thursday research note that the company's "fundamentals appear to have remained steady," with sales of ADHD drug Vyvanse and GI drug Lialda continuing to increase. Welford added that an orphan-drug acquisition focus for Shire would make a lot of sense.
Although tax-inversion-motivated acquisitions accounted for a significant amount of summer M&A chatter, it has been a subset of the year's larger M&A stories. These have included the offloading and onboarding of over-the-counter portfolios (Merck and Bayer) and asset swaps (GSK and Novartis), as well as therapeutic area divestitures (Boehringer's abandonment of hepatitis C).
The AbbVie/Shire deal will fall apart under two contractually-defined scenarios: if shareholders vote against the acquisition at a shareholder meeting, or if the meeting (and therefore a vote) does not occur by December 14.
Scroll down to see the next article