June 11, 2015
Amarin lawsuit about more than fish oil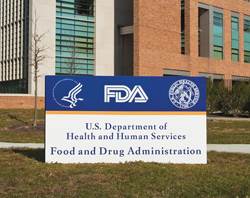 The fight between Amarin and the FDA over what the drugmaker can say about its fish-oil pill Vascepa appears to be about free speech, but legal experts say the suit highlights a bigger issue that shows pharma's frustration with the regulator.
"The point here is that the agency wants to be able to review communications at their discretion, on their time frame and not give any firm assurances to the companies, so what this does is creates a chilling effect," James Copland, director of the Center for Legal Policy at the Manhattan Institute, told MM&M.
The FDA approved Vascepa for patients with very high triglyceride levels in 2012. The drugmaker has further invested in clinical trials to show the drug can be effective in patients with high triglyceride levels. But in April the FDA rejected expanding the indication to include patients with high triglyceride levels because it said the company failed to show a benefit among those patients.
Amarin has said it wants to be able to speak to doctors about the drug's benefits, including whether it can be effective in patients with high triglyceride levels. It said in its complaint that its goal is to discuss information from its clinical trials with physicians and it will not convey this off-label information to patients. Current medical practice allows physicians to prescribe drugs for purposes other than those outlined on the label; Amarin said in its complaint this is common, as did Copland and Michael Walsh, a partner at the Dallas office of Strasburger & Price. Although doctors can discuss off-label uses, companies cannot.
The FDA said in a June 5 letter to the court that it "recognizes the value to health professionals of truthful and not-misleading scientific or medical publications or unapproved new uses" but that prescription medications have to be shown to be safe and effective for their intended use, unlike supplements which meet different requirements. Amarin declined to comment on the FDA's letter.
Walsh said if Amarin is successful with the lawsuit it would free drugmakers to discuss unapproved uses of approved drugs within limits. But doing this would also present new risks for pharma companies, according to Copland. He said that Amarin's lawsuit is part of a bigger conversation about what would happen if the rules change.
Walsh said that if the FDA lost this case, drugmakers may find themselves at risk of liability issues that current laws protect them against.
How the FDA regulates off-label communications has become a prominent issue for pharma marketers as well as lawmakers in recent years. In 2013 a court ruled against the FDA after it pursued legal action against a pharmaceutical sales rep named Alfred Caronia. The court said Caronia was within his rights when he presented truthful off-label information about Jazz Pharmaceuticals' narcolepsy drug Xyrem to a physician.
Both Copland and Walsh said the FDA's letter is an attempt to move this lawsuit out of court.
But this isn't the only off-label issue circulating. The 21st Century Cures Act also includes a provision that would allow drugmakers to share healthcare economic information with payers and formulary committees.
Scroll down to see the next article