March 02, 2015
Amgen results for Kyprolis could sideline Velcade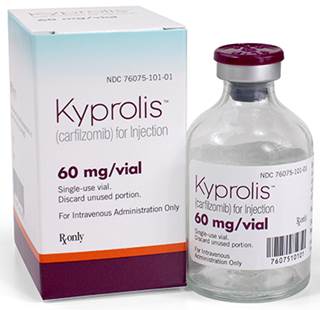 A phase-III study comparing Amgen's cancer drug Kyprolis (carfilzomib) with Velcade (bortezomib) favored Kyprolis, which could set the drug up to dominate the proteosome inhibitor class.
The Endeavor clinical trials showed progression-free survival among Kyprolis patients who had had between one and three previous rounds of therapy reached 18.7 months compared with the 9.4 months of progression-free survival among Velcade patients. Kyprolis is currently approved for multiple myeloma patients who have had at least two previous forms of treatment.
The data could go so far as to "establish Kyprolis as the superior drug in the class," Evercore ISI analyst Mark Schoenebaum wrote in his Monday assessment. Jefferies analyst Eun Yang's Monday research notice indicates that the results could boost projected Kyprolis sales from $1.3 billion to $1.4 billion in 2019.
The study also showed that Kyprolis patients experienced higher cardiac and renal failure compared with Velcade, but Schoenebaum wrote that these negatives "look acceptable to us." Schoenebaum said that this news ups the likelihood that the testing for the drug as a first-line therapy in the Clarion clinical trials will show Kyprolis will work as a first-line therapy.
The knock does not necessarily mean the end for Velcade. The FDA approved Novartis's Farydak (panobinostat) just last week. The first-in-class histone deacetylase inhibitor was approved when used with Velcade for patients who have already received at least two rounds of prior therapy.
Scroll down to see the next article