October 22, 2014
Biogen's strong quarter eclipsed by patient death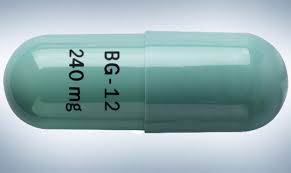 Biogen Idec released results from its third-quarter on Wednesday. While the drugmaker posted strong results in revenue over the year-ago period, the results were clouded in part by the death of a patient taking the company's top-selling multiple sclerosis treatment, Tecfidera (pictured at right).
Although the patient died from pneumonia, the person also developed a brain infection known as PML (progressive multifocal leukoencephalopathy) after taking Tecfidera for four and a half years. The patient, according to Biogen CEO George Scangos, was also exhibiting low white blood cell count—a known risk factor for PML.
The death harkened back to 2005. Then, another Biogen MS drug, Tysabri, was pulled from the market by the FDA due to the rare brain infection. The drug would return to pharmacy shelves the following year with additional safety monitoring.
Revenue for the drugmaker rose 37% from this time last year to $2.5 billion—largely owing to sales of Tecfidera, which raked in $787 million and more than doubled its sales during the same period last year. Other MS treatments boasted strong sales: Tysabri generated $501 million—slightly over consensus estimates—and Alprolix's first quarter figure of $25 million well exceed the expected $14 million.
Correction: An earlier version of this article misstated that PML is a known side effect of Tecfidera. Tecfidera may decrease lymphocytes. Severe and prolonged lymphopenia (having abnormally low levels of lymphocytes) is a known risk factor of PML.
Scroll down to see the next article