November 30, 2012
Consumer Marketing briefs: December 2012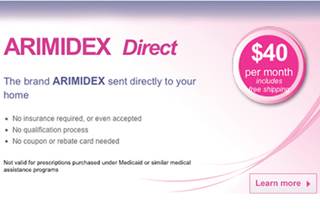 AstraZeneca launched a new digital package aimed at easing patients into its Arimidex access program, Arimidex Direct, including a share-able badge for social media sites and a how-to video outlining the enrollment process. Arimidex Direct lets eligible patients with a prescription get the drug delivered to their home for $40 a month, and AstraZeneca says enrollees could save $4,000 a year on the breast cancer treatment through the program.
Mobile health is becoming a bigger deal among cell phone users. Pew found that 31% of cell users—this is both smartphones and cellphones—have used their phones to seek out health information, a big increase from just 17% two years ago. Despite the jump, Pew found that texting, which about 80% of the polled users said they send and receive, is the tool they use least for getting health information.
Walgreens
launched
Happy and Healthy, Your Guide To Living Well With Walgreens
, a bi-annual, 28-page glossy ­magazine available in English and Spanish. The debut issue features Taylor Swift on the cover, and the issue is divided into sections covering health and wellness, food and beverage, and beauty.
Scroll down to see the next article