January 14, 2011
DDR on DTC: Seroquel XR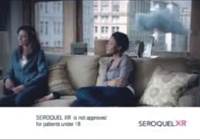 I wrote recently about the memorable campaign that AstraZeneca was running for Nexium, and this month I find myself applauding them for their DTC work on another brand, Seroquel XR, an "add-on" treatment for depression that can help patients who still have symptoms after taking another anti-depressive. The campaign is effective because it uses a simple and telegraphic icon — a dark cloud — to do the key messaging. The cloud hovers in the background of the patients, representing the depressive symptoms that just won't go away.
This icon does a lot of heavy lifting for Seroquel XR in that it immediately communicates the therapeutic situation and the environment for the sufferer. It is not cute, fancy or in any way gimmicked — its omnipresence is the message. Moreover, the cloud is not gray or black, but blue, making it less threatening. This adds to the hopeful tonality of the campaign and this imagery is carried through across the campaing, which will further strengthen the branding.
It is often challenging for DTC creatives to visualize the disease, condition or treatment for a brand, especially in CNS and cardio categories. Here, we see a great example of iconic imagery being used to visualize a non-physical symptom. The cloud metaphor is not new, but using it as a strong communication tool in this category is smart, memorable and, we hope, effective for both AZ and patients.
Deborah Dick-Rath is SVP, healthcare practice leader, at FactorTG. Contact: deborah.dick-rath@factortg.com
Scroll down to see the next article