February 01, 2012
DDR on DTC: Spiriva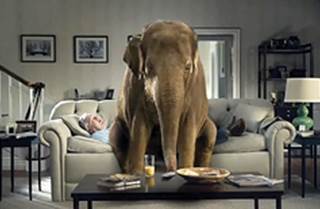 Spiriva's "Controlling the Elephant" campaign is one of the most brilliant we've seen in ages. It's a perfect execution, and, in my view, delivers on the adage that it is better to have one big idea that can be used in many multidimensional, multilayered and multifaceted ways than one execution of a big idea.
Here's how this perfection works. First, it leverages patient insight to draw attention to the problem the brand must solve. The insight is how it feels to have COPD—helpless, with a huge weight pressing on your chest. Second, memorable imagery illustrates the problem—an elephant sits on a person lying on a sofa. Third, and most important, the brand intervenes to help the sufferer. This is just a beauty shot of the device with benefit copy, but after that, "the weight is lifted."
The pachyderm imagery is used over all channels of the DTC activity. It works because it is so simple and so direct. It takes a nanosecond to understand the problem, but the visual is so distinct and linked to the insight that it will be remembered for quite a while.
The competitors in the COPD category focus their DTC ads on lung demos and relieved patients, but none have the Spiriva Elephant campaign's power. In the January MM&M, the Boehringer Ingelheim VP of Respiratory Marketing, Kathleen Dowd, noted that COPD is the fourth-leading cause of death in the U.S. and that only half of the 24 million symptomatic people are diagnosed. She stated, "It's outrageous. As leaders in this marketplace, we need to change this paradigm." This campaign shows that she means what she says.
Deborah Dick-Rath is SVP, healthcare practice leader, at FactorTG. deborah.dick-rath@factortg.com
Scroll down to see the next article