July 06, 2011
Dificid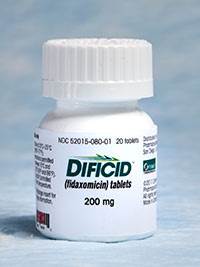 Product
Dificid

Approval Date
May 27, 2011

Release Date
Third quarter 2011

Company
Optimer/Cubist

Class
Macrolide antibacterial

Indication
For the treatment of Clostridium difficile-associated diarrhea (CDAD) in adults

Active Ingredient
Fidaxomicin

Agency Roster
CDM (professional)
Entrée Health (managed markets)
SSCG Media Group (digital)

Marketing Strategy/Execution
Considering infectious disease specialists are among the heaviest users of the web during patient consults, a big part of the Dificid launch strategy involves digital promotion. Tactics could include direct-to-physician programs, and online disease awareness to doctors and patients on the incidence and severity of CDAD and the recurrence problem. Currently 20-30% of patients have a relapse, according to Optimer, and that can lead to readmission and additional health costs. Dificid's point of differentiation is that it proved superior to ViroPharma's Vancocin in keeping patients' diarrheal symptoms in check at 25 days post treatment. In mid-July Dificid's combined sales force of 280 US reps (100 from Optimer, 180 from Cubist) will start detailing that message to ID specialists, hospitalists and gastroenterologists. Ads in journals targeting these specialists will support reach. The twice-daily pill will be priced at $2,800 for a 10-day course—significantly more than the roughly $1,000 ViroPharma charges for a course of therapy with Vancocin. Jefferies analyst Eun Yang forecasts US sales of $95 million by 2013, reaching as high as $250 million worldwide.
Also in the Pipeline (courtesy of Adis R&D Insight)
Drug: Rifaxidin
Manufacturer:Salix Pharmaceuticals
Indication: Clostridium infections
Active ingredient: Rifaximin
Phase: III
Source: Wolters Kluwer Pharma Solutions
Recent MM&M Coverage
The Top 75: CDM New York

Pharmacology
Fidaxomicin is a fermentation product obtained from the Actinomycete Dactylosporangium aurantiacum. It is bactericidal against C. difficile in vitro, inhibiting RNA synthesis by RNA polymerases.
Clinical Trials
In two randomized, double-blinded trials, a non-inferiority design was utilized to demonstrate the efficacy of fidaxomicin (200mg twice daily for 10 days) compared to vancomycin (125mg four times daily for 10 days) in adults with Clostridium difficile-associated diarrhea (CDAD). Enrolled patients received no more than 24 hours of pretreatment with vancomycin or metronidazole. CDAD was defined by >3 unformed bowel movements (or >200mL of unformed stool for subjects having rectal collection devices) in the 24 hours before randomization, and presence of either C. difficile toxin A or B in the stool within 48 hours of randomization. Enrolled patients had either no prior CDAD history or only one prior CDAD episode in the past three months. Subjects with life-threatening/fulminant infection, hypotension, septic shock, peritoneal signs, significant dehydration, or toxic megacolon were excluded.
The primary efficacy endpoint was the ¬clinical response rate at the end of therapy, based upon improvement in diarrhea or other symptoms such that, in the investigator's judgment, further CDAD treatment was not needed. An additional efficacy endpoint was sustained clinical response 25 days after the end of treatment. Sustained response was evaluated only for patients who were clinical successes at the end of treatment. Sustained response was defined as clinical response at the end of treatment, and survival without proven or suspected CDAD recurrence through 25 days beyond the end of treatment. The results for clinical response at the end of treatment in both trials indicate that fidaxomicin is noninferior to vancomycin (Trial 1: fidaxomicin 88% vs. vancomycin 86%; Trial 2: fidaxomicin 88% vs. vancomycin 87%). The results for sustained clinical response at the end of the follow-up period indicate that fidaxomicin is superior to vancomycin on this endpoint (Trial 1: fidaxomicin 70% vs vancomycin 57%; Trial 2: fidaxomicin 72% vs. vancomycin 57%). Since clinical success at the end of treatment and mortality rates were similar across treatment arms (approximately 6% in each group), differences in sustained clinical response were due to lower rates of proven or suspected CDAD during the follow-up period in fidaxomicin patients. Restriction Endonuclease Analysis was used to identify C. difficile baseline isolates in the BI group, isolates associated with increasing rates and severity of CDAD in the U.S. in the years prior to the clinical trials. Similar rates of clinical response at the end of treatment and proven or suspected CDAD during the follow-up period were seen in fidaxomicin-treated and vancomycin-treated patients infected with a BI isolate. However, fidaxomicin did not demonstrate superiority in sustained clinical response when compared with vancomycin.
Adverse Reactions
Nausea, vomiting, abdominal pain, GI hemorrhage, anemia, neutropenia.
Adults
200mg twice daily for 10 days.
Children
Not recommended.
Precautions
Not for treating systemic infections (minimal systemic absorption). Pregnancy (Cat. B). Nursing mothers.
Scroll down to see the next article