August 05, 2015
Drugs that turn cancer into a chronic disease need new marketing strategies: report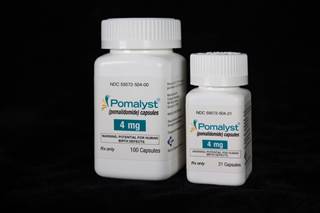 The approvals of new medications for some blood cancers have been associated with improved survival rates yet pharma may not fully appreciate the marketing implications of these transformative therapies, according to a report.
Up until 2001, people diagnosed with multiple myeloma on average lived for 30 months after diagnosis. Newer drugs such as Takeda's Velcade, approved in 2003, and Celgene's Revlimid, approved in 2006, extended that average to 43 months by 2008.
And future treatments may extend life by six years on average by 2022 based on a model created by sales and marketing consulting firm ZS, which co-authored the report with Celgene and the Cedars-Sinai Outpatient Cancer Center at the Samuel Oschin Comprehensive Cancer Center Institute. Celgene markets several multiple-myeloma drugs including Thalomid and Pomalyst.
The firm's long-term market forecasting raises questions about how drugmakers should commercialize and invest in therapies that are no longer used at the end of life but as treatments for a chronic condition. Basing such investment on past outcomes data can lead to inadequate funding, which then can impact a company's clinical trials, launch strategy and patient-support programs, according to the report's findings.
"Pharmaceutical executives must fundamentally rethink the analytics that support the decisions behind therapies that turn terminal illnesses into chronic conditions," Pratap Khedkar, a managing principal at ZS, contends in a news release.
Some of the decisions pharma companies must make involve whether to invest in future clinical trials, whether to focus on specific patient types and how to handle dosing for patients on maintenance therapy, Nisha Gilra, co-author of the study and principal at ZS, told MM&M.
What might they do differently based on the improved survival data? Well, they may choose to rework patient-support and education programs for nurses and physicians. Patients may also need more information about how to manage side effects from the drugs if they are taking them as a maintenance therapy, according to Gilra.
"It's allowing the entire community, manufacturers included, to have a better idea of what the patient population is going to understand and fine-tune thinking about R&D investment, marketing investment and how to support a patient population that has an evolved set of needs," she said.
The global multiple-myeloma market is expected to grow from $8 billion in 2014 to $16 billion by 2019, according to a Morningstar analyst note from last week. Revlimid makes up 65% of Celgene's total sales but the drug's patent is being challenged by Natco, an Indian generic drug company and its partner Allergan, which may mean the drug has generic competition before 2027.
The FDA earlier this year expanded Revlimid's indication to include newly diagnosed patients.
Scroll down to see the next article