July 29, 2015
Eyeing big returns, drugmakers ready new hepatitis-C drug launches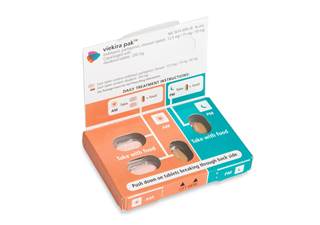 The market for the new class of hepatitis-C drugs is becoming more crowded as a higher percentage of patients seek out therapies with shorter treatment durations and drugmakers pursue indications for more stubborn forms of the infection.
Gilead Sciences, which developed Sovaldi and Harvoni, the current market leaders in the category, reported that about 40% of US patients taking Harvoni in the second quarter of 2015 underwent treatment in eight weeks rather than 24 weeks.
"This is an encouraging trend as it suggests the payers should be seeing the value of earlier treatment for appropriate genotype-1 patients," Paul Carter, Gilead Sciences' EVP of commercial operations, said during a call Tuesday with investors. "And we believe this makes a strong case for payers to further ease restriction on patients' access."
Sales of Sovaldi and Harvoni reached nearly $4.9 billion in the second quarter of 2015 and generated 60% of Gilead's total product sales. The therapies, which have been available in the US for less than two years, make up an estimated 90% of the hepatitis-C market.
Despite the blockbuster status of both Sovaldi and Harvoni, the drugmaker is also seeking new indications for Harvoni, its best-selling therapy, including in patients co-infected with HIV; patients with genotypes 4, 5 or 6; and cirrhotic patients. The FDA's decisions are expected by Nov. 15.
Gilead isn't the only drugmaker seeking new patient populations or attempting to bring newer, more advanced treatments to market. The FDA last week approved Technivie (ombitasvir, paritaprevir and ritonavir), to be used in combination with ribavirin to treat genotype-4 infections in patients without scarring and cirrhosis.
AbbVie, the maker of Technivie, also markets Viekira Pak, which was approved in December to treat patients with genotype-1 infections, the most common form of the infection. Viekira Pak brought in $385 million in sales in AbbVie's second quarter.
The FDA also last week approved Daklinza (daclatasvir), a treatment developed by Bristol-Myers Squibb to treat genotype-3 infections in combination with Sovaldi. It does not require the co-administration of interferon or ribavirin.
Merck, which stopped selling an older, less effective hepatitis-C drug called Victrelis in January, announced its own plans to re-enter the market. Earlier this week the company said that the FDA had accepted an NDA for grazoprevir/elbasvir, an investigational daily single-tablet combination therapy for hepatitis C. The regulator is expected to decide on the drug by Jan. 28.
Still, concerns about pricing and which patients should receive treatment remain top concerns for both healthcare providers, as well as among the insurers and pharmacy benefit managers responsible for covering the cost of the pricey treatment.
PBM Express Scripts triggered a hepatitis-C pricing war when it signed a deal making AbbVie's Viekira Pak the exclusive choice for genotype-1 patients on its national formulary in exchange for a discount off the drug's 12-week price of $83,000. A competing PBM, CVS/Caremark, then granted exclusive status to Gilead's two drugs on its formularies.
Other cost-cutting deals have followed, including Anthem's signing an accord favoring Gilead's treatments. Analysts have put the discounts in the 10% to 20% range but they could go higher.
Consolidation in the payer market—namely Anthem's planned buyout of Cigna—and Aetna's pending acquisition of Humana, is only expected to increase PBMs' clout in pricing negotiations.
Nevertheless, Gilead Chairman and CEO John Martin expressed optimism during the firm's investor call, saying that the reluctance of insurers and PBMs to cover treatment for all patients with hepatitis C may start to wane. "I do think that as the market starts to become a bit more predictable now in terms of the numbers of patients coming through that hopefully payers will also feel more encouraged to sort of open the gate," Martin said.
Scroll down to see the next article