April 08, 2015
FDA Onglyza panel review set for Tuesday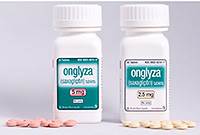 AstraZeneca's diabetes medication Onglyza (saxagliptin) is going before an FDA advisory panel Tuesday, and the anticipated shakeout is that a bad review could do more harm to AstraZeneca's drug than to any other member of this class of medications.
Onglyza was approved in 2009. Questions about heart safety issues have surrounded the category for a while, and the 2009 10-2 advisory panel endorsement for Onglyza said the drug's documentation was "sufficient to rule out unacceptable cardiovascular risk relative to comparators in the program." The class has also been associated with concerns regarding an increased risk for pancreatitis.
What separates Onglyza from its peers is that hospitalization for heart failure was 27% higher in patients taking the drug when compared to placebo in the 16,500-patient Savor trial.
The FDA said in February 2014 that it wanted the drugmaker to submit additional clinical trial data after the New England Journal of Medicine published a study that showed an increased level of heart failure among patients taking Onglyza, which is also a component of AstraZeneca's Kombiglyze XR, another Type 2 diabetes treatment. The 2013 study did not link Onglyza to a higher rate of stroke, which was another study endpoint.
The FDA will also review Takeda's Nesina (alogliptin), another DPP-IV inhibitor, but AstraZeneca's drug is the one Leerink Partners analyst Seamus Fernandez focused on in his Wednesday research note. Fernandez wrote that key opinion leaders said the FDA will not be able to ignore heart-failure hospitalization rates reported in AstraZeneca's Savor clinical trial for Onglyza. He also indicated there may not be a lot to worry about because the FDA waited for more than a year to discuss the NEJM study.
Fernandez wrote that although DPP-IVs are "generally undifferentiated in terms of efficacy," there are differences in how they work. Onglyza and Novartis's Galvus (vildagliptin) have a different binding specificity, compared to Nesina, Januvia and Boehringer Ingelheim's Tradjenta (linagliptin). He wrote that Onglyza and Galvus work differently than other DPP-IV drugs, which may explain a difference in cardiovascular results.
Sanford C. Bernstein analyst Tim Anderson said last year that the Savor trial may have been ignored if two other trials—Takeda's Examine trial for Nesina and a Vividd clinical trial for Galvus—had not surfaced around the same time. He said results showed these drugs were also associated with heart failure "albeit to a weaker degree." Galvus is not sold in the US.
Fernandez said key opinion leaders do not expect the FDA to recommend limiting DPP-IV use or a boxed warning.
Scroll down to see the next article