May 01, 2015
Fit4D wins MM&M shark-tank challenge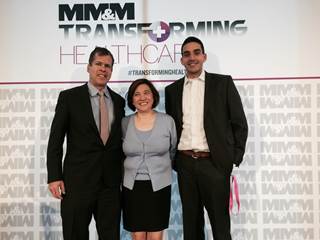 Fit4D, a Web-based diabetes coaching program, took the top prize at Intelligent Connections, a shark-tank-style session held during Thursday's MM&M Transforming Healthcare conference in New York City.
David Weingard, founder and CEO of the tech outfit (pictured far left, with colleagues Katherine Liu and Benjamin Klein), and executives from three other health start-ups presented their business models to four pharma executives. Fit4D came away with invitations from marketing execs at diabetes giants Roche and Medtronic—both of whom sat on the shark panel—to explore potential beyond-the-pill collaborations.
The other start-ups in the presentation were Cellanyx Diagnostics, a prostate-cancer diagnostics firm; HelpAround, a "mobile safety net" for people with diabetes; and Kuveda, which developed a cancer-decision support platform.
About 150 biopharma and device marketers, health-tech CEOs, agencies and health IT execs turned out for the inaugural MM&M spring conference to discuss ways to overcome challenges involving marketing and business innovation. Click here for the recap or check out #transforminghealthcare on Twitter.
Scroll down to see the next article