April 10, 2015
Five things for pharma marketers to know: Friday, April 10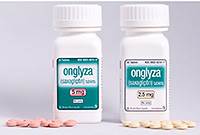 The FDA said that AstraZeneca's diabetes drug Onglyza may be tied to an increased rate of death and previously disclosed risks relating to heart failure are valid, according to Reuters. An FDA advisory panel is scheduled to review the drug next Tuesday over safety concerns related to cardiovascular risks. Onglyza received FDA approval in 2009.
Horizon Pharma said its experimental drug to treat Friedreich's ataxia, a rare inherited disease, received fast-track designation from the FDA, The Wall Street Journal reported. The drug, Actimmune, is currently approved to treat chronic granulomatous disease and severe malignant osteopetrosis. Last week Horizon said it would spend $1.1 billion to acquire Hyperion Therapeutics, which also markets drugs that treat rare diseases.
A lawyer told jurors that Pfizer knew there were risks of heart defects in babies born to women taking the antidepressant Zoloft, Bloomberg News reported. The comments were made on the first day of a trial brought by a mother whose son was born with a heart defect. The lawyer accused the drugmaker of failing to warn physicians and patients about the risks. Pfizer's lawyers say there are no credible studies that show the drug causes birth defects.
Japanese drugmaker Eisai said it plans to cut 25% of its workforce in the US to make the company more efficient. Eisai's US workforce includes research and development, manufacturing, sales and marketing and administration.
A report issued by the Obama administration said electronic health record vendors have made it difficult and costly for healthcare providers to share patient information, according to The Wall Street Journal. Interoperability between EHR systems has been a growing concern for physicians, hospitals and patients. Members of Congress requested the report in December.
Scroll down to see the next article