February 13, 2015
Five things for pharma marketers to know: Friday, February 13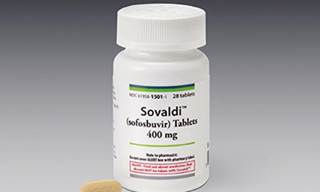 Eisai inched toward its $1-billion goal for its medication Lenvima (lenvatinib) with the Friday announcement that the FDA has approved the drug for progressive, differentiated thyroid cancer. The regulator approved the orphan drug two months before the expedited Priority Review approval/rejection deadline. Eisai exec Ivan Cheung previously told the Wall Street Journal he expects the drug to hit $1 billion in sales if it nabs all of its anticipated indications, which include kidney and liver cancers.
Gilead's hepatitis C treatments Sovaldi and Harvoni are stealing market share from AbbVie and its Viekira-Pak, but the Wall Street Journal notes it is fueled by discounts. Ed Silverman notes that Gilead's discounts — which have jumped to an average of 46% from 22%, have been steeper than analysts expected. The discounts are not limited to the US, where Gilead and AbbVie have lined up PBMs to give priority status to their respective drugs: PMLive reports that Gilead has cut a three-year deal with Germany's health authority in which it has agreed to a price of $47,000 for a 12-week Sovaldi regimen (this same regimen costs around $84,000 in the US). The deal closed after seven months of haggling.
The Centers for Medicare and Medicaid's new Oncology Care Model will apply a value-based system to treatment regimens. BioCentury reports that the five-year plan includes Medicare fee-for-service and Medicaid agencies as well as commercial and government insurance plans. BioCentury says the system will be applied to all cancers treated with systemic chemotherapy and will be rolled out next year. Modern Healthcare notes that private payers have tested similar models to rein in care costs. MH says trends indicate cancer-care costs would rise to $172.8 billion in 2020, a 38% increase over 2010's costs if case and care costs continue at their current rates.
Valeant is in the process of pocketing immuno-oncology drugmaker Dendreon and Bloomberg reports Salix is its next target. Sources tell Bloomberg that Valeant has lined up financing for a bid that could amount to around $150 a share. The site notes that the deal could become a tug-of-war between Valeant — which failed to acquire Allergan last year — and Shire, which failed to be acquired by AbbVie during 2014 when new tax rules tempered AbbVie's interest. Meanwhile, Shire's tax-base shuffle has paid off for the company. The Guardian reports that the company's structure has endowed it with a corporate tax rate of around 2%, even though the US accounts for most of its sales.
Johnson & Johnson's Janssen subsidiary has launched a three-part research program that seeks to identify patients at risk for diseases including Alzheimer's and cancer as well as to stop their development. "A hundred years from now, someone's going to look back on us and say, 'Can you believe they waited until you got a disease and then did something?" Janssen's R&D head told the AP.
Scroll down to see the next article