October 06, 2014
Five things for pharma marketers to know: Monday, October 6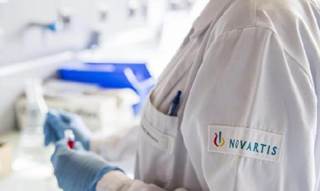 Novartis announced Monday that it will collaborate with Bristol-Myers Squibb to evaluate three of its assets in combination with immunotherapy drug Opdivo (nivolumab). The trials, which will be conducted by Novartis, will assess the viability of Opdivo paired with Zykadia, an approved treatment for patients with metastatic non-small cell lung cancer (NSCLC) and the other will observe the effects of INC280 and EGR816 paired also paired with Opdivo in patients with NSCLC. Financial details of the collaboration were not disclosed.
After 60 Minutes placed cancer drug prices in its crosshairs on Sunday, Forbes's Matthew Herper offered his own critique of the segment over the weekend. Herper wrote that the program's selection of industry representatives left much to be desired, which opted for John Castellani, CEO of the lobbying group PhRMA rather than "more charismatic men in the industry," like Novartis chief executive Joe Jimenez or Sanofi CEO Chris Viehbacher. He did note however, that the story raised important questions and that the issue of cancer drug prices has likely reached "peak hype," after the special's debut. Herper concluded that with "Merck, AstraZeneca, and Roche all making high-priced, high-value cancer drugs central to their business plans, this is a major issue."
Sanofi is reportedly locked in disagreement about how to sell off its established drug portfolio—thought to be worth $7.9 billion—Bloomberg wrote Friday. The news service reported that sales of the assets has been at a "standstill amid disagreements among top managers as how to move forward," according to unnamed sources. Bloomberg reported in July that Abbot Laboratories, Mylan and a number of private-equity firms had expressed interest in the portfolio of 200 European off-patent drugs.
The FDA has set the price of redeeming Rare Pediatric Disease Priority Review Vouchers: $2,562,000, the exact same amount it costs to use tropical disease vouchers. Regulatory Focus explains that the price is the new development for the voucher program which was established in 2012 and for which draft guidance is still being created, even though BioMarin pocketed the first voucher under this program in February 2014. This is the same voucher Sanofi and Regeneron bought for $67.5 million in July with the expectation of attaching it to their PCSK9 cholesterol drug for an expedited review. Although the firms already put out a hefty sum for the voucher, using it requires an additional fee, which is on top of the new drug application fee. RF notes that what makes the pediatric voucher unique is that it has fewer use restrictions than the tropical disease vouchers which, it notes, have not been used successfully.
The Generic Pharmaceutical Association is challenging lawmakers over what they consider a mischaracterization of generic drug prices by lawmakers. BioCentury Extra reports that the reaction to a letter by Sen. Bernie Sanders (I-VT) and Rep Elijah Cummings (D-MD) in which the two focused on generic drug price increases that hit the four-digit realm is a problem because the letter was about 10 drugs that are part of a 12,000-generic-drug universe. GPhA President and CEO Ralph Neas also offered a pricing report of his own — one by Drug Channels—to counter the Healthcare Supply Chain Association report Sanders and Cummings used.
Scroll down to see the next article