March 17, 2015
Five things for pharma marketers to know: Tuesday, March 17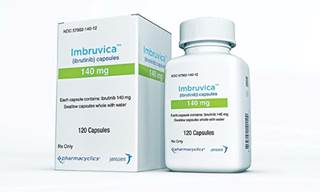 Interim test results for a trial combining cancer drug Imbruvica (ibrutinib) with two other medications were strong enough that an independent committee recommended Pharmacyclics and Johnson & Johnson unblind the trial, Reuters reported. The study is exploring using Imbruvica with bendamustine and rituximab among patients who had been previously treated for chronic lymphocytic leukemia or small lymphocytic lymphoma. BioCentury reported that the data showed the drug hit its primary endpoint of progression-free survival. The results add further support to AbbVie's $21-billion decision to buy Pharmacyclics.
Two studies—one funded by CVS Health and one by the National Institutes of Health—indicate that the new wave of hepatitis-C drugs, specifically Gilead Sciences' Sovaldi and Harvoni, are cost effective. Reuters reported that the CVS study showed that using Sovaldi was cost effective compared to using older treatments for patients with genotype-1 HCV and the PBM estimated that the new medications cost around $12,825 for every healthy year gained. [The Wall Street Journal explained that the US does not have a cost-effectiveness measurement and the study used $50,000 and $100,000 as quality-of-life benchmarks to assess cost-effectiveness.] Reuters also reported that the NIH study indicated treating patients with the new drugs could prevent around $16 billion in future spending, but The Wall Street Journal pointed out that "this is not the same thing as saying that money will be saved" and noted that the math would still leave a sizeable medical bill.
GlaxoSmithKline and Johnson & Johnson are among the major drug companies that have joined up with the UK's government-led Dementia Discovery Fund, which will seek out ways to prevent and treat dementia. Reuters reported that this is the first venture-capital fund focused on dementia treatment and prevention. The wire service said supporters have provided more than $100 million to the fund, with the UK providing $22 million, GSK $25 million and Johnson & Johnson $10 million.
The American College of Physicians says routine cardiac testing is a waste if patients do not have the symptoms to prompt such testing. The New York Times reported that the tests including electrocardiograms and stress tests do not improve the health of symptom-free patients. The Times said these tests can even create problems because "all the tests commonly produce false positives that lead to further unnecessary testing."
A yearlong clinical trial of Mango Health's drug adherence app shows that one-third of its app users continue to use it a year later, reported TechCrunch, which also noted that beats the typical 30% return rate among mobile games. Users generally open the app twice a day. Mango Health plans on adding additional features, like blood pressure monitoring, to the app and is designing an app for the Apple Watch.
Scroll down to see the next article