October 21, 2014
Five things for pharma marketers to know: Tuesday, October 21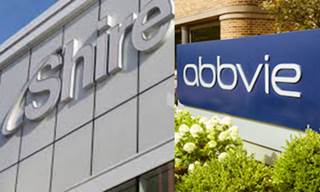 The AbbVie-Shire deal is officially dead. Shire released AbbVie from its commitment yesterday afternoon, bypassing the need for AbbVie's shareholders to vote against the deal. AbbVie's board voted against the merger last week, saying new US tax rules unwound the financial benefits that prompted the acquisition in the first place—the merger would have changed AbbVie's tax address from a US to an Irish one, lowering its tax rate, a point AbbVie CEO Richard Gonzalez emphasized in a statement Monday in which he also lobbied for tax reform. "The unprecedented unilateral action by the US Department of Treasury may have destroyed the value in this transaction, but it does not resolve a critical issue facing American businesses today. The US tax code is outdated," he said. Shire said in a statement that it released AbbVie from the deal because it believed the board's vote indicated there was no "realistic prospect" that shareholders would have voted to go ahead with the merger. The termination means Shire will receive $1.63 billion in break-up fees, which—ironic considering the deal was about lowering taxes—is a tax deduction for AbbVie. The deal also returns Shire to its pre-M&A posture, which appeared to be an acquisitive one.
CVS Caremark is increasing pressure on patients to stay away from pharmacies that sell tobacco products, reports the Wall Street Journal. The pharmacy benefits manager, which is part of CVS Health, the parent of the CVS Pharmacy chain that banned tobacco products from its retail outlets last month, is reportedly going to require some consumers to pay a premium if they fill prescriptions at pharmacies that sell tobacco products. The Journal says the upshot is that this will provide an incentive to visit CVS stores and pharmacies in the Caremark network.
Auxilium Pharmaceuticals announced Tuesday that its biologic Xiaflex has been granted a new indication for the treatment of up to two Dupuytren's contracture joints in patients during the same physician visit. Dupuytren's contracture, a progressive hand disease that can limit finger joint movement, results in roughly 70,000 procedures to treat patients every year, according to IMS. Xiaflex has received Orphan status by the FDA for both Dupuytren's contracture and with Peyronie's disease.
Reckitt Beckinser Pharmaceuticals announced Tuesday it will rebrand following its demerger with Reckitt Benckiser Group—which is expected to be completed in 2014. As a standalone company, Reckitt Beckinser Pharmaceuticals will operate under a separate holding company, Indivior PLC, a name divined from the fusion of the words "individual" and "endeavor." Indivior has adopted the new tagline, "Focus on you," which is meant to represent the company's dedication to "transforming addiction for a global human crisis to an actively treated chronic disease." Reckitt Beckinser Pharmaceuticals manufactures Suboxone, a therapy for opioid dependence.
Lawns and men's health may not be considered intrinsically linked, but the gardening group Scott's Company LLC (think grass and Miracle-Gro) are working on making these topics connect in the UK. The tool: Gro-vember, a take on the Movember campaign in which men grow mustaches, money and awareness for health issues. The kid version, developed by ad agency mcgarrybowen, has kids growing grass moustaches which are part of funny face templates.
Scroll down to see the next article