September 30, 2014
Five things for pharma marketers to know: Tuesday, September 30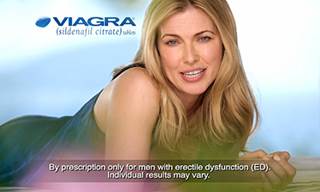 New Viagra ads will look to woo new patients with women, the Associated Press reported Tuesday. The new :60 ads will feature a middle-aged woman on a bed addressing the problems couples face when confronting impotence. "So guys, it's just you and your honey. The setting is perfect. But then erectile dysfunction happens again," she says, according to the news service, before recommending they see their doctor. Vic Clavelli—Pfizer marketing chief—told AP that the company is vying for a more direct approach, "built around very subtle innuendo."
The Open Payments database has launched, but industry watchers are wary about just what is conveyed by the data, which includes information about industry payments to physicians conveys. ProPublica's Charles Ornstein and the Wall Street Journal note that the information is a snapshot of snapshots in that it only covers payments at the tail end of 2013. The Journal also notes that industry reps and professional groups have been wary about the data that is revealed because it is just that—data—without what they consider the vital narrative to explain what those numbers mean and if they have any significance. Yet ProPublica says it is still possible to draw some conclusions based on the database as well as from its own digging, which includes poking around websites of drug companies that already publish payment information because of previous lawsuit-settlement requirements. Among its findings: physician/industry relationships are common; doctors often have relationships with more than one company; small companies, as well as big companies make big payments; and many interactions happen over meals.
The FDA has rejected a petition to force drugmakers to reformulate drugs like Adderall, Ritalin and painkillers to prevent illegal use, In-Pharma Technologist reported late Monday. The petition came from US doctor John Kulli. The agency responded that the "science of abuse deterrence is relatively new," and conceded that there is not enough known about current anti-abuse technology. The Associated Press reported September 24 that the Physicians for Responsible Opioid Prescribing published a letter asking the White House to fire FDA commissioner Margaret Hamburg—citing frustration by the agency's approvals of high-dose opioid analgesics. A new policy statement from the American Academy of Neurology on Monday, too, advocated limiting the use of opioids in patients with chronic pain conditions unrelated to cancer, according to Medpage Today.
Johnson & Johnson is paying $1.75 billion—in cash—to fill out its viral infection portfolio. The drugmaker announced it was purchasing Alios BioPharma Tuesday and said it expects to close the deal by the fourth quarter of this year. The acquisition gives J&J's Janssen subsidiary a number of pipeline treatments including the Phase-II AL-8176, which is being tested for respiratory syncytial virus, also known as RSV. "This acquisition will enable us to explore treatment options for a number of viral infections, including RSV, the last of the major pediatric diseases with no available preventive therapy," Janssen's head of the global research division, William Hait, said in a statement.
AbbVie says the Shire deal is a go. The Wall Street Journal reports that CEO Richard Gonzalez sent a letter to Shire employees saying things were moving along as anticipated, while AbbVie enterprise strategies VP Chris Turek sent a note to AbbVie's staff talking about company culture and the expectation that the deal will wrap by the end of this year. The WSJ's Ed Silverman notes that the internal memos did double duty, by operating as an internal update as well as serving as a way to reassure investors the latest tax inversion rules have not cooled the desire for a deal.
Scroll down to see the next article