June 24, 2015
Five things for pharma marketers to know: Wednesday, June 24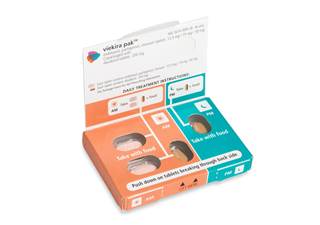 AbbVie, which in December won FDA approval for its hepatitis-C cocktail Viekira Pak, on Wednesday said the pack was effective whether or not used in combination with the compound ribavirin against the most common form of the virus, Reuters reported. Those findings were contained in a late-stage study that the FDA considered in granting approval for the pack, which pairs Viekirax and Exviera. The study found the combination cured 91% to 100% of patients with the infection. The market for hep.-C drugs has become highly competitive in the past year with AbbVie's new cocktail joining the battle for market share against Gilead Sciences' Sovaldi and Harvoni and Johnson & Johnson's Olysio.
Emerging markets will account for a third of global pharma spending by the end of this year, forecast a new report from UK-based Cambridge Consultants. "Innovation and technology will be important differentiators as pharma organizations try to drive growth in developing countries," the consulting firm said in a release discussing the report, which defines emerging markets as including countries in parts of Africa, the Middle East and Southeast Asia as well as Brazil, Russia, India and China. "Emerging markets are facing rapid growth of chronic 'Western' diseases like diabetes, hypertension, chronic respiratory problems, cancer, heart disease and neurological disorders," said Ambuj Jain, India general manager at Cambridge Consultants, in the release. "In some cases, conditions like diabetes are turning into near-epidemic situations."
Alexion Pharmaceuticals' stock received a vote of confidence on Tuesday when Bernstein market analyst Geoffrey Porges reiterated his outperform rating for it following Alexion's closing on its purchase of Synageva Biopharma, reported Benzina.com. Porges set a price target of $267 a share for Cheshire, CT-based Alexion, whose common shares closed at $190.92 on Tuesday. Alexion produces the blockbuster drug Soliris, intended to treat people with very rare genetic blood disorders. Treatment with the drug costs $400,000 to $500,000 annually per patient.
AstraZeneca is experiencing a senior executive brain drain. James Ward-Lilley, who oversaw respiratory and inflammatory medicines for the drugmaker, is leaving to become chief executive office of Vectura, a lung drug specialist, Reuters reported. Ward-Lilley becomes the second senior company executive to leave this month. Briggs Morrison, AstraZeneca's former chief medical officer and head of late-stage drug development, earlier this month left to become CEO of Syndax, a privately held cancer drugmaker. AstraZeneca told Reuters the timing of the two departures was "pure coincidence."
Republicans in the US House on Tuesday voted to eliminate the federal Independent Payment Advisory Board (IPAB), created by the Affordable Care Act to rein in Medicare spending. Members have never been appointed to the board and it has yet to recommend any Medicare savings, but Republican lawmakers long have criticized it as a way to ration healthcare. President Obama has pledged to veto the measure, which passed the House on a mostly party line vote, 244–154, the Associated Press reported. The board can only recommend cuts when Medicare spending reaches levels not yet seen, AP explained.
Scroll down to see the next article