August 31, 2012
Genzyme backs support effort for MS patients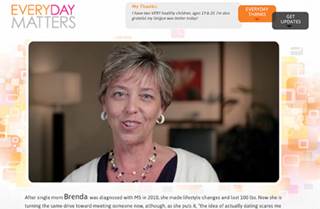 The lives of five patients with mutiple sclerosis will be chronicled online as part of a program developed by the National MS Society and Sanofi's Genzyme unit. The program, called Everyday Matters, chose the patients from a pool of 1,200 entries to receive individual support as they share experiences.
Organizers say they will seek to engage those living with or affected by MS by tapping into positive psychology, drawing on the achievements of the patients to help inspire others. Patients will be tracked through personal text, video, and photo journals, all to be showcased on the website everydayMSmatters.org.
The patients—including a school teacher and single mom—will focus on the top five aspects of life, as identified by MS patients in a June 2012 poll by the society: wellness, work/education, relationships, family and empowerment. Emmy-winning producer Kristen Adams, herself an individual living with MS, will help film the stories. A life coach who also has MS, Michelle Clos, will provide one-on-one coaching, and best-selling author of The Happiness Advantage, Shawn Achor, will guide efforts.
"I know first-hand that 'staying positive' can become that much more challenging after being diagnosed with a chronic and unpredictable disease like MS," Clos said in a statement.
In June Genzyme submitted Lemtrada (alemtuzumab), for relapsing MS treatment, to the FDA and European regulators. An annual injection, the drug would compete against MS treatments like Novartis' Gilenya (fingolimod), Teva's Copaxone (glatiramer) and Biogen-Idec's Tysabri (natalizumab).
Scroll down to see the next article