February 01, 2011
Halaven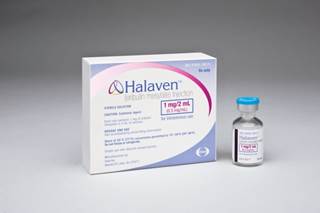 Product
Halaven

Approval Date
November 15, 2010

Release Date
November 25, 2010

Company
Eisai Pharmaceuticals

Class
Non-taxane, microtubule dynamics inhibitor

Indication
Treatment of patients with metastatic breast cancer who have previously received at least two chemotherapeutic regimens for the treatment of metastatic disease

Active Ingredient
Eribulin mesylate

Agency Roster
Biolumina Group

Marketing Strategy/Execution
Halaven, a breast cancer drug derived from sea sponges, is being leveraged by Eisai's existing full-scale oncology infrastructure. Utilizing its in-house sales force on the roll-out, the firm has commenced independent marketing in the US, with sales promotion in community oncology clinics and academic institutions. Eisai reports positive initial impressions by physicians and payers as seen by early formulary placement and request for insurance verifications. Halaven is the first single agent to show overall survival benefit in third-line metastatic breast cancer patients, and the company is aiming for global peak sales of over $2 billion, based on anticipated approval by other countries and additional indications, including second-line use. About 200,000 women are newly diagnosed with advanced breast cancer each year (a million worldwide), and approximately 40% develop locally advanced or metastatic disease, per Eisai estimates.

Physician Outlook
With the increasing number of metastatic breast cancer patients undergoing four and more lines of treatment, high unmet needs exist for an efficacious and well tolerated treatment option for this heavily pretreated patient population. Halaven is the first new drug the FDA has approved for breast cancer in more than three years (and maybe the last novel chemo agent to become available for many years). It certainly has gained the oncologists' attention and is considered as one of the notable cancer advances for 2010.

-Petra Maertens, director of syndicated studies, oncology, GfK HealthCare

Also in the Pipeline (courtesy of Adis R&D Insight)
Drug: BIBW 2992
Manufacturer:Boehringer Ingelheim
Indication: Breast cancer (Combination therapy)
Active ingredient: Afatinib
Phase: III
Drug: R 435
Manufacturer: Roche
Indication: Breast cancer (Combination therapy)
Active ingredient: Bevacizumab
Phase: Marketed
Drug: SKI 606
Manufacturer: Wyeth
Indication: Breast cancer
Active ingredient: Bosutinib
Phase: III
Drug: R340
Manufacturer: Roche
Indication: Biliary cancer (Combination therapy)
Active ingredient: Capecitabine
Phase: Marketed
Drug: NSC 620212
Manufacturer: Zeneus Pharma
Indication: Breast cancer (Combination therapy)
Active ingredient: Doxorubicin liposomal
Phase: III
Drug: Afinitor
Manufacturer: Abbott Laboratories
Indication: Breast cancer
Active ingredient: Everolimus
Phase: Marketed
Drug: BSI 201
Manufacturer: BiPar Sciences
Indication: Breast cancer (Combination therapy)
Active ingredient: Iniparib
Phase: III
Drug: Azaepothilone B
Manufacturer: Bristol-Myers Squibb
Indication: Breast cancer (Adjuvant therapy)
Active ingredient: Ixabepilone
Phase: Marketed
Drug: HKI 272
Manufacturer: Wyeth
Indication: Breast cancer (Combination therapy)
Active ingredient: Neratinib
Phase: III
Drug: SB 786034
Manufacturer: GlaxoSmithKline
Indication: Breast cancer (Combination therapy)
Active ingredient: Pazopanib
Phase: III
Drug: Anti-2C4 monoclonal antibody
Manufacturer: Chugai Pharmaceutical
Indication: Metastatic disease
Active ingredient: Pertuzumab
Phase: III
Drug: IMC 1121B
Manufacturer: ImClone Systems
Indication: Breast cancer (Combination therapy)
Active ingredient: Ramucirumab
Phase: III
Drug: BMS 182751
Manufacturer: Agennix AG
Indication: Breast cancer (Metastatic disease)
Active ingredient: Satraplatin
Phase: III
Drug: Nexavar
Manufacturer: Bayer
Indication: Breast cancer (Combination therapy, Late-stage disease, Second-line therapy:combination with capcitabine)
Active ingredient: Sorafenib
Phase: III
Drug: SU011248
Manufacturer: Pfizer
Indication: Breast cancer
Active ingredient: Sunitinib
Phase: III
Drug: Yondelis
Manufacturer: PharMar
Indication: Breast cancer (Metastatic disease, Monotherapy)
Active ingredient: Trabectedin
Phase: III
Drug: Herceptin-DM1
Manufacturer: Chugai Pharmaceutical
Indication: Breast cancer (Second-line therapy)
Active ingredient: Trastuzumab-DM1 immunoconjugate
Phase: III
Drug: AZD 4054
Manufacturer: AstraZeneca
Indication: Breast cancer (Metastatic disease)
Active ingredient: Zibotentan
Phase: III
Source: Wolters Kluwer Pharma Solutions
Adverse Reactions
Neutropenia, anemia, asthenia/fatigue, alopecia, peripheral neuropathy, nausea, constipation, febrile neutropenia; possible QT prolongation, elevated liver enzymes.
Adults
Give by IV injection over 2–5 minutes. 1.4mg/m² on Days 1 and 8 of a 21-day cycle. Mild hepatic impairment (Child-Pugh A) or moderate renal impairment (CrCl 30–50mL/min): 1.1mg/m² on days 1 and 8 of a 21-day cycle. Moderate hepatic impairment (Child-Pugh B): 0.7mg/m² on Days 1 and 8 of a 21-day cycle. Hold dose for ANC <1000/mm³, platelets <75000/mm³, or grade 3 or 4 non-hematological toxicities. Delay or reduce dose according to toxicities; see literature. Do not re-escalate dose after it is reduced.
Children
Not recommended.
Precautions
Monitor CBCs; increase frequency of monitoring if grade 3 or 4 cytopenias develop, delay and reduce subsequent doses if febrile neutropenia or grade 4 neutropenia lasting >7 days develops. Monitor for peripheral neuropathy; withhold dose if grade 3 or 4 peripheral neuropathy develops until resolution to grade 2 or less. Congenital long QT syndrome: avoid. CHF, bradyarrhythmias, electrolyte abnormalities: monitor ECG for prolonged QT interval. Correct electrolyte abnormalities (K+, Mg+) before treatment; monitor. Severe hepatic impairment (Child-Pugh C) or severe renal impairment (CrCl<30mL/min): insufficient data. Pregnancy (Cat. D), nursing mothers: not recommended.
Interactions
Caution with other drugs that prolong QT interval (eg, Class IA and III antiarrhythmics); monitor.
Scroll down to see the next article