November 11, 2014
Heart study results may be positive, but Vytorin boost unlikely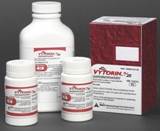 Merck says it has learned the results of its long-running "Improve-It" patient study evaluating the use of Vytorin (ezetimibe/simvastatin) against simvastatin alone, and does not expect the results to significantly diminish the remaining value of its cholesterol brands.
Merck said in a filing Monday with the Securities and Exchange Commission that it has determined, based on the results, that there is no need to write down the value of Vytorin and Zetia for accounting purposes.
The Wall Street Journal, which first reported the story Monday, also noted that Merck, in a filing with the SEC in February, had advised that sales of Vytorin and Zetia could be "materially adversely affected," should the drugs fail to demonstrate incremental benefit over simvastatin in the trial.
Launched in 2005 and involving more than 18,000 heart patients, Improve-It is designed to show whether Vytorin, a single-pill combination of simvastatin and Zetia, is superior to simvastatin alone in preventing heart attacks and other cardiovascular events. Merck has announced it will present the study results in Chicago on Nov. 17.
The view among investors and experts has been that the trial will most likely "miss its mark" given issues raised over the clinical trial design, and "various academics have started laying the ground work for a failed trial, with caution not to over-interpret the findings," Sanford Bernstein analyst Tim Anderson wrote in an investor note Monday.
However, "it increasingly appear to us that Improve-It (results) might actually be positive," though such a result would be heavily debated about how to interpret the findings, Anderson wrote.
"It is tough to know at present but it is distinctly possible that Improve-It hits statistical significance yet the magnitude of the actual clinical benefit remains marginal," he pointed out.
Merck's stock price from positive results would benefit primarily from the removal of a "psychological overhang," but the results will likely be "too little, too late" to change the outlook for the drugs, with major statins like Lipitor off-patent and an alternative in AstraZeneca's branded Crestor, which matches Vytorin/Zetia in LDL-reduction efficacy, Anderson added.
The large, much anticipated study could be viewed as having significance beyond Vytorin/Zetia if positive results further prove a near linear relationship between LDL levels and cardiovascular event reduction, the analyst noted.
That is, the FDA may be more inclined to accept LDL-lowering as a surrogate end point when evaluating the new class of PCSK9 inhibitors working through Phase-III development.
Scroll down to see the next article