April 01, 2015
Johnson & Johnson, GSK settle dispute over OTC advertising claims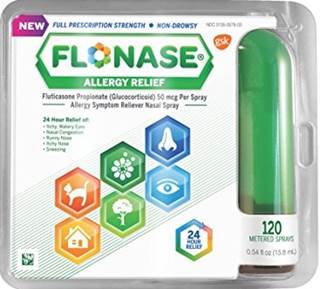 A lawsuit over product claims between Johnson & Johnson subsidiary McNeil Consumer Healthcare and GlaxoSmithKline moved quickly through the courts but just slowly enough to give a glimpse of the money at stake when companies seek to take on a product category.
Court documents filed March 12 in the Southern District of New York by McNeil revealed that the company has spent almost $1 billion marketing its over-the-counter allergy medication Zyrtec since its 2008 launch. In its complaint, McNeil alleged that GlaxoSmithKline's ads for its over-the-counter allergy medication Flonase, which started running in January, misrepresented the category. The ads—proclaiming that Flonase "outperforms the #1 allergy pill"—compared Flonase to Bayer's Claritin, rather than to either Zyrtec or Benadryl, which McNeil manufactures.
McNeil asked the court to impose a temporary injunction on the advertising because the disputed claims were being aired just as the peak season for allergy medication sales—when the two allergy medications earn an average of $13.2 million a week, McNeil claimed—was about to start. The companies settled on March 30.
A category expert told MM&M that the timing issue is likely what prompted McNeil to go to court—as opposed to routing its complaint to the National Advertising Division arm of the Council of Better Business Bureaus, where disputes can take six months to be resolved. McNeil's filing indicates prime allergy sales season runs from the end of March through May.
Attorney Samuel J. Louis, a partner at the Texas firm Strasburger & Price, told MM&M that the lawsuit could have dragged on had the companies not settled, since it was likely that the FDA would have had to address label-related claims.
McNeil said in its complaint the ads should have compared Flonase to its brands Zyrtec or Benadryl, claiming that Zyrtec led the single-ingredient OTC allergy medication space in 2015 sales as of the filing and that Benadryl was leading in units sold during this same period. The advertising cited in McNeil's complaint does not name Claritin as the leading allergy pill, but the complaint alleged that the comparison is implied because the study supporting it compared Flonase to Claritin. The FDA approved OTC Flonase in July of last year and it hit the market in February.
GlaxoSmithKline alleged in its response that McNeil's claims were off base, beginning with the assertion that consumers will assume GSK is comparing Flonase to Zyrtec. GSK's answer indicated that even if consumers thought Zyrtec was the comparative product, they too would be wrong, because GSK has sales data that shows Bayer's Claritin is the leading single-ingredient allergy pill. GSK also said in its response that market research indicates Claritin has greater brand awareness and loyalty than Zyrtec.
GSK's response also claimed that Colleen Sellers, McNeil's group brand director, made a presentation in February at the Association of National Advertisers' Brand Masters Conference during which she reportedly said that her firm's Zyrtec strategy included "targeting the 'category leader' Claritin" and that Claritin had 0.8% more market share than Zyrtec as of November 2014.
The GSK response also pointed to an Effie North American award submission in 2014 as proof that Claritin was its foe. The campaign summary said Claritin was Zyrtec's one major OTC competitor. "McNeil's entire marketing strategy for Zyrtec apparently has been to target Claritin as the leading allergy pill," GSK alleged in its response.
GSK's redacted legal response hides what the company paid to promote Flonase since the product launch earlier this year, but it said the effort includes in-store displays, television and radio ads and print and Internet advertisements, all of which contain the disputed language. GSK said in its response that removing and replacing these materials "would be devastating to the Flonase brand and would cripple its launch" and that "retailers would be angered" if they were forced to remove the promotional materials.
McNeil's parent company pulled in $74.3 billion in sales last year, $4.1 billion of which came from OTC products. The average weekly take of the two drugs during prime allergy medication season may seem relatively small, but the fight did not surprise Louis. "Drug companies are always going to spar with each other with respect to market share, because each side is trying, of course, to establish its brand," he said.
After the settlement, GlaxoSmithKline told MM&M in an emailed statement, "We have reached a mutually acceptable and amicable agreement with McNeil. The terms are confidential."
Scroll down to see the next article