February 04, 2014
Medicate responsibly, urges maker of Tylenol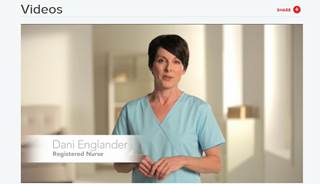 The maker of Tylenol has taken to the web and other media channels to educate consumers about safe use of acetaminophen.
The effort, by Johnson & Johnson's OTC arm McNeil Consumer Health, manufacturer of Tylenol, is called "Get Relief Responsibly," and comes just 10 days after the FDA urged healthcare professionals to avoid prescription combination medications with more than 325 mg of the analgesic. The initiative began in 2011, but was revamped with the launch of an enhanced consumer education website (getreliefresponsibly.com).
The regulator made the HCP-oriented recommendation, it said, primarily due to the risk of accidental overdose as well as liver damage. And three years ago, manufacturers were asked to cap acetaminophen content to 325 mg per tablet or capsule by January of this year.
The FDA in its Jan. 15 announcement, however, offered no guidance for OTC products—even though a number of such medications offer doses of 500 mg of acetaminophen and greater, like Tylenol Extra Strength. The Center for Disease Control has data—reported by ProPublica—suggesting that more than 300 people die annually as a result of acetaminophen poisoning.
In effect, the agency advised against pharmacists doling out high doses of acetaminophen, when those same options are available on store shelves an aisle away from the pharmacy counter, adding only "we will address OTC acetaminophen products in another regulatory action."
In that sense, the McNeil effort, which the company calls an "enhanced education campaign" for consumers, is a step ahead. The company would not say whether the recent FDA announcement and surrounding media coverage spurred its new initiative.
"While many of our consumer-related websites help drive consumer preference for our brands," Jodie Wertheim, director of OTC external communications for J&J, told MM&M, "the mission of the Get Relief Responsibly site is primarily focused on educating patients and consumers to use medicines (particularly those containing acetaminophen) responsibly."
The website and campaign, developed by Philly-based indie healthcare agency DiD and Publicis-owned digital-mobile-social shop MRY, offer an 11-question quiz to help dispel myths about common misconceptions, such as "if pills are the same size does that mean they have the same amount of medicine?" or that people who are taller or heavier require more medication.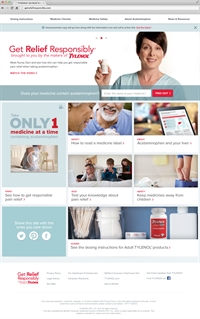 It also offers videos featuring a registered nurse, Dani Englander (pictured), on how to store medication safely from children, proper dosing for infants and tips like "only take 1 medicine at a time containing acetaminophen."
Wertheim noted that J&J specifically designed the website to be mobile-optimized, in an effort to better reach consumers where they are: "Today mobile devices play a bigger role in how users view online content," she said. "We saw an opportunity to make it easier to get the information they were seeking on Get Relief Responsibly and do it with a responsive design website that gives users a consistent experience across all of their screens."
McNeil will look to extend the campaign to paid advertising and search, retail partnerships, direct mail and pharmacy kits, as well as through HCP education, Wertheim confirmed.
Correction: An earlier version of this article misstated that Tylenol is an NSAID pain reliever. The initiative, Get Relief Responsibly, began in 2011—the new effort is the launch of consumer website, GETRELIEFRESPONSIBLY.com.
Scroll down to see the next article