August 01, 2012
Merck draws fire for Children's Claritin campaign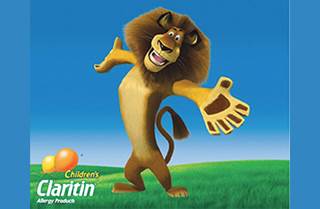 An advocacy group wants Merck to back away from a recent Children's Claritin promotion, and has brought the FTC in to referee. The issue: a marketing tactic incorporating characters from the DreamWorks's animated Madagascar trilogy.
Merck's strategy included tapping into its network of mom ambassadors—which includes bloggers who have signed up to receive offers and promote products—and giving them a party kit with samples and coupons for the OTC allergy medication, along with popcorn holders, stickers and DVDs of the previous Madagascar movies. The push also included a Facebook page.
That set watchdog groups snarling. "This campaign is in violation of longstanding FTC precedent to protect children from child-directed marketing of OTC supplements, and by extension, OTC drugs," the Public Health Advocacy Institute stated in its June 20 letter.
The interest group's letter said that the campaign's problems go beyond targeting children to include possible product confusion—DreamWorks has also licensed the franchise characters to promote candy, fruit snacks and crackers and said the possible mix-up between food and medication "creates a very real danger of product confusion" DreamWorks did not respond to inquiries regarding its licensing policies by press time.
Merck told reporters that the company reaches parents where they gather and that the Claritin promotion was aimed at parents, not children.
Deborah Dick-Rath, president of consulting firm Epic Proportions, told MM&M: "The overall promotion and tie-in is clearly aimed at parents. The Facebook page is targeted at moms and the activities, while kid-oriented, must be mom-directed."
Dick-Rath also pointed out that Roche used characters from Happy Feet for its prescription drug Tamiflu. She said that campaign didn't kick up dust and there are larger issues to tackle. "The strategic use of a children's film in each case seems to be appropriate and safe. Maybe we should be more concerned about over-ingesting a lot of those Happy Meals.."
Existing marketing guidelines don't really fit the Claritin paradigm—Claritin is OTC, Tamiflu is prescription. Claritin is a medication while vitamins are supplements. But former FDA assistant chief counsel Arnie Friede told MM&M the campaign begs the question "even if it's not legally prohibited if it is a responsible marketing approach."
PHAI's letter did not demand that Merck's Facebook page be pulled down or the Madagascar-themed packages be pulled and is looking for an impact that goes beyond this one product. Senior staff attorney Cara Wilking told
MM&M
they want to encourage the FTC to set out clear limits on "how tie-ins can be used with respect to the marketing of OTC drugs."
Scroll down to see the next article