December 16, 2013
Osbourne joins Teva for "You Don't Know Jack About MS"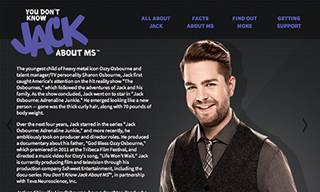 In a play on the popular video game, "You Don't Know Jack," Israeli drugmaker Teva has launched an unbranded MS awareness campaign—"You Don't Know Jack About MS"—featuring TV host and producer Jack Osbourne, son of rock icon Ozzy Osbourne.
The online documentary series "is designed to chronicle Jack's life living with relapsing-remitting multiple sclerosis (RRMS)," Nancy Leone, Teva's communications director for global specialty medicines, told MM&M.
Osbourne was diagnosed with multiple sclerosis two weeks after the birth of his daughter, Pearl, in 2012. "Very few people in their 20s are talking about MS and as a producer and filmmaker, I felt compelled to document my journey in an effort to help others," he stated in a release.
RRMS is the most common form of multiple sclerosis—the disease is episodic where patients often experience periods of neurologic impairment followed by a partial or complete recovery.
"The campaign reintroduces the audience to Jack as a husband, father, entrepreneur—through the lens of his journey since being diagnosed with RRMS," Leone explained.
At time of publication, one part of the series had been featured on the web—Leone noted that three additional "webisodes" would be available by the end of the year.
The series will be plugged in both earned and social media, Leone confirmed. The campaign was developed in part by PR agency Rx Mosaic (part of Omnicom Group) and Jack Osbourne's production company, Schweet Entertainment.
While the campaign is an unbranded one, Osbourne is currently taking Copaxone—Teva's daily injectable MS therapy.
Copaxone may soon come under pressure from generic competition. On Dec. 10, Teva unveiled two sets of forecasts—one with generic Copaxone on the market and one without—the difference being roughly $500 million.
FDA has not yet approved a generic form of the drug, thus the company's bifurcated finances. Generic or not—the MS injectable will face an up-hill battle from all-oral competition as Biogen Idec's Tecfidera, Sanofi/Genzyme's Aubagio and Novartis's Gilenya could erode its market share.
The company announced it plans to cut 5,000 jobs or 10% of its workforce as it prepares for Copaxone's genericization.
Teva also plans to launch a 40-mg version of Copaxone in early 2014 that will require only three injections per week—rather than a daily shot—with the hope that current Copaxone patients will move to the longer-lasting formulation.
Scroll down to see the next article