September 24, 2014
Sanofi rolls out HCP software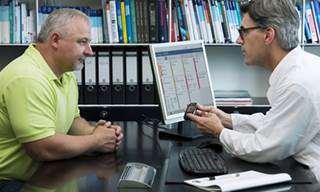 Sanofi teased its next wave of physician and patient support at last week's European Association for the Study of Diabetes conference in Vienna, showcasing what the director of its diabetes mHealth division Milena Saleh tells MM&M is the company's first multi-country rollout of decision-making support software.
The current doctor-diabetic patient check in consists of a few steps: plugging in a patient's glucose monitor, downloading the data and then having the doctor choose between cramming in a quick glimpse at results or talking with the patients in the allotted nine-to-10-minute meeting. MyStar Connect offers an alternate scenario in which patients log into a site and enter the meter's information on a regular basis, and doctors read this data before and/or between appointments and reserve the nine-to-10 minute appointment talking about the data and what needs to be done.
Saleh says the added benefit is that the tool can defeat what she calls a vicious circle in which patients halfheartedly track sugar levels, see that physicians do not look at the numbers and then ask themselves "why prick my finger every day if in the end the physician is not looking at the data?"
Saleh says the goal is to have the software meld with a physician's workflow, so the data is translated into quick-read graphics that show trends, such as fluctuating or rising glucose levels, as opposed to discrete data points doctors need to bring together before being able to identify a trend that may indicate a need for action. This may sound a lot like what Apple's HealthKit and WebMD's Healthy Target do for consumers, but Saleh says MyStar Connect provides HCPs a narrative that can shape care, helping them shape the data into a health-promoting tool.
She says that Sanofi is also looking at consumer-facing apps, but notes that there is a lot to wade through. "There is chaos. There are activity trackers, there are food counters... there is a lot of data with very little insight," she says, and adds by way of example, a user tracking 600 calories but not knowing if it's too few or too many calories for a given health goal or even being able to know the "quality" of the calories.
Sales reps will be talking up the platform to doctors and hospitals across Europe next year—plans for a US launch are TBD—and Sanofi says it is currently developing additional mHealth projects it may be ready to discuss come next year.
"We've been looking into this [space] for the last two or three years," she says, and notes that although mHealth is helping transform healthcare, the company is careful to have "a good product at the start."
Scroll down to see the next article