October 01, 2013
Shire effort tackles diabetes from the bottom up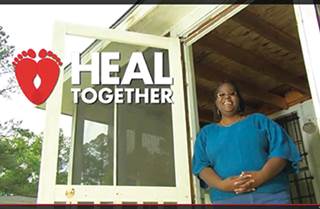 The complications that often come to mind with diabetes are things like controlling blood sugar, kidney problems and retina damage. But neuropathy, the disease's impact on the nervous system, is a serious and sometimes overlooked problem.
According to an estimate from the American Diabetes Association, between 60% and 70% of diabetics have mild-to-severe damage of the nervous system.
And for Shire, that percentage underscored a need for education. The drug maker recently launched website HealTogether.com, an online resource for people and communities afflicted with diabetes and diabetic foot ulcers (DFUs).
A 2005 study published in JAMA estimated that 25% of the people who have diabetes will eventually suffer from a DFU. Shire says they're one of the most common complications in patients with diabetes.
"When Shire first entered the diabetic foot ulcer market, we realized that so much was lacking in the way of education and awareness," Bernis Gabelman, manager, market development for the regenerative business unit at Shire, told MM&M. "Patients with complications such as diabetic foot ulcers were at times ending up at a hospital with an infected wound before ever making it to a specialist."
Shire markets Dermagraft, a treatment for DFUs which is designed to facilitate the body's healing process by placing a "human dermal substitute" over the wound. Once the substrate is placed, it allows the patient's epithelial cells to close the sore.
HealTogether is an independent program. The unbranded website has a DFU risk-assessment tool, knowledge center, patient testimonials and a specialist locator. The four videos—appearing under the heading "You're Not Alone"—are meant to strike an emotional chord. Patient interviews discuss the ways diabetes, and its complications, affect their lives. The project involved a collaboration between Shire and Incubate, a digital agency based out of Southern California and Mexico.
Gabelman noted, "HealTogether has received 20,000 visits to the website per month," in addition to industry awards recognizing its creative design and development, including this year's Graphic Design USA, American web-design award.
Scroll down to see the next article