October 09, 2014
Specialty prescription costs hurt across the board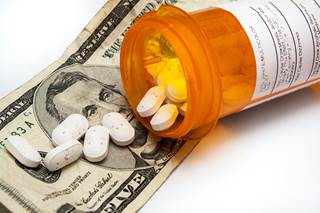 As the second open enrollment period for government-supported insurance plans nears, data from the PBM Express Scripts about its Silver plan members shows that even with high demand and use for generic medications, specialty drugs and the conversations surrounding them are as critical here as they are for other payers.
Among the findings: generics accounted for 87% of filled prescriptions through July 2014, compared to fills of traditionally insured—as in employer-sponsored— patients for whom generics accounted for 81% of filled prescriptions. Exchange plan members also typically opted for Silver plans, which have lower premiums, high deductibles, and structures which encourage patients to use generics over branded drugs. Also of note: Express Scripts healthcare reform VP Julie Huppert told MM&M in a phone interview that it now knows the majority –66%– of members in any type of public health plan were not previously insured in an plan with Express Scripts pharmacy coverage.
Higher-priced specialty medications got far more use among exchange-plan patients, accounting for 38% of the total pharmacy spending among these patients. Among traditionally insured patients, specialty medications accounted for around 28% of total pharmaceutical costs.
Some of the reasons for the difference are in the illness data. Express Scripts found that three of every five exchange-plan specialty prescriptions were for HIV medications. Huppert said that HIV medications were the most used specialty medications among 18-to-34-year-olds. These relatively youthful patients and their older HIV-positive peers were also four times more likely to take a hepatitis C medication, 23 times more likely to receive hepatitis B medications (hepatitis co-infections among HIV-positive patients are not uncommon) and almost three times as likely to require medications for non-HIV viral infections.
Specialty medications have become increasingly important for payers because of high prices and sensitivity to both the conditions they treat and the impact restrictions can have on patient behavior. A study by PBM Prime Therapeutics published in Health Affairs noted that this class of medications — which covers treatments for an array of diseases including rheumatoid arthritis, multiple sclerosis and hepatitis — are expected to account for more than half of all drug expenditures within six years. The study also found that there is a clear price threshold at which point patients stop taking specialty medications to manage medical conditions. Using anti-inflammatory and MS drugs as tests cases, researchers found that pushing monthly out-of-pocket medication costs for a new therapy beyond the $150-to-$200 range increases the risk of non-adherence by 39%.
In an article published in Health Affairs, Duke University assistant professor of medicine Bradford Hirsch noted that the impact high-priced medications have on individuals is not well documented. Still, he wrote that a study of cancer patients showed that these patients were twice as likely to declare bankruptcy because of medical costs than non-cancer patients. Additionally, 46% of those patients said they'd reduced their food and clothing expenses and 24% said they managed expenses by declining to fill their prescriptions.
Incentives to steer patients to lower-cost options include plan structures like step-therapy and prior-authorization requirements, as well as payment tiers, co-insurance and cost-sharing. However, such efforts do not always work, and a future in which patents no longer keep lookalikes from the specialty medication category is not expected to bring a savings windfall. Bradford and his team pointed to a 2010 Congressional Budget Office report, which estimated that the use of biosimilars "would yield only a 2% reduction in pharmaceutical costs by 2019." One part of this is the cost of developing lookalike drugs and the other is that drug companies will likely end up providing patient support systems around these medications, which ups the overall cost.
Drug discount coupons remain a major source of patient assistance. Prime Therapeutics researchers found that last year's specialty pharmaceutical claims totaled $911.8 million, and drug coupons covered $21.2 million, or just over 60%, of out-of-pocket costs. Although the PMB's researchers estimated that patients using more than one coupon saved around $1,069 on medications last year, a study published by NerdWallet Wednesday questions the impact of this benefit. The firm's number crunchers found that healthcare expenses rose by around $1,814 between 2010 and 2013, while income fell $2,300 during this same period.
Scroll down to see the next article