February 19, 2015
Study shows Lucentis at Eylea disadvantage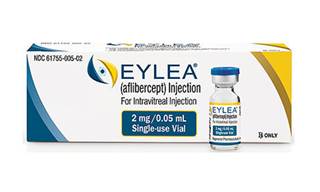 The eye-drug pricing war just got tighter for Roche's injection Lucentis: An NIH-funded study comparing Lucentis (ranibizumab) against its cancer drug Avastin (bevacizumab) as well as Regeneron's Eylea (aflibercept) showed that the $1,950-per-shot Eylea bested the competition among severe diabetic macular edema patients. It also showed that cheaper Avastin, which is not indicated for DME but is used off-label, worked just as well as its costlier cousin Lucentis.
Bernstein analyst Tim Anderson wrote in a Thursday assessment the research indicates Eylea may outperform the other drugs among even the less severe patients. The upshot: doctors will be able to "treat all comers with the drug if they choose (and payers permit), whereas the same is unlikely to be true of Lucentis and Avastin."
Anderson indicated that Eylea's clear differentiation from Lucentis somewhat mutes the argument that a cheaper price is enough to justify prescribing it. He noted that the study results may also pressure payers to cover Eylea, even though Lucentis costs $1,200 a shot. He noted that this could also have an impact on potential Lucentis biosimilars, because they will not be able to argue Eylea parity. In effect, the study reduces the Lucentis conversation to Lucentis vs. $50-per-shot Avastin.
[Update: Genentech says it is still too early to push Lucentis aside. "Results from a single trial with one year of data should be interpreted in the context of extensive existing evidence and clinical experience," Genentech's senior manager of product PR, Allison Neves, emailed MM&M after publication. Neves also noted that the study showed Lucentis improved vision among DME patients and that "the difference between Lucentis and [Eylea] in a small group of patients with more severe vision loss has not been seen in previous studies and needs further evaluation."]
Critics have long argued that Roche and its international partner Novartis have been pushing a medication that offers no clear benefit over Avastin. Abroad, the partners have been accused of misleading advertising intended to portray Avastin as an undesirable alternative; and Italy has gone so far as to endorse its off-label use. Stateside criticism has included critiques over packaging, which is said to foil off-label Avastin use, as well as a study that indicates swapping Avastin for Lucentis could save the US around $18 billion if government programs allowed eye patients to use the drugs interchangeably.
Anderson wrote that the news could prompt greater off-label use among less-severe patients, but the drug's packaging will probably keep it from taking off (Avastin is delivered in doses suitable for cancer indications). Breaking it into smaller, single-use doses would require an intermediary, which could incur costs.
He also noted that he expected Eylea sales to continue to grow. The drug brought in $1.7 billion in 2014 sales, up from almost $1.5 billion the year before. Oncology-indicated Avastin provided almost $6.8 billion to Roche's 2014 sales total, while Lucentis rang up close to $1.8 billion in sales last year.
Scroll down to see the next article