September 30, 2014
Sucampo goes all-in on Amitiza with new DTC effort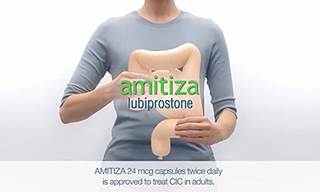 For the majority of drugs, end-of-lifecycle planning usually involves a reining-in of marketing costs. But Sucampo CEO Peter Greenleaf is doing the exact opposite. In the firm's second-quarter earnings call, he announced the company is "doubling-down" on Amitiza, the constipation treatment which has been on the market for eight years and which will soon face the threat of generic competition.
Amitiza owns just 1% of the overall constipation market, which includes a number of OTC options, a representative for the drugmaker told MM&M. Sucampo co-markets Amitiza with Takeda.
But Greenleaf doesn't see the formidable competition as a bad thing. His logic: Multiple products means more awareness of the condition, and the opportunity to grab more market share: "Having multiple competitors with products can increase consumer awareness across the board and also increase the overall number of prescriptions given," the CEO told MM&M.
Some of that awareness is due to Amitiza's longevity. The drug has been on the market for the better part of a decade (the brand bowed its first DTC campaign in 2007) and holds the broadest indication in the category. It's currently approved for use in chronic idiopathic constipation in adults, in treatment of irritable bowel syndrome (IBS) with constipation and opioid induced constipation.
Sucampo plans to be selective in its advertising, though. "Our strategy is a targeted approach, focusing in on adults over 45 with a :60 second spot on the right programming—including 'Good Morning America, and 'Oprah Winfrey,'" Greenleaf explained.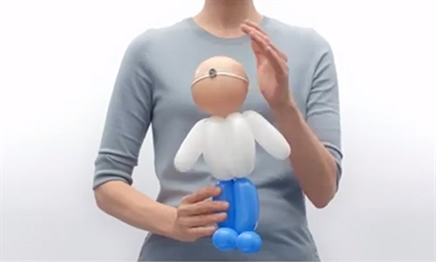 The spot playfully uses balloons—which are tied and twisted in various ways to show an upset stomach, a doctor, and even a toilet—to help get the message across. The commercial debuted Monday of this week. The initiative will be supplemented by a print ad that will appear in Woman's Day, Good Housekeeping, and other women's periodicals. Chicago agency AbelsonTaylor developed the campaign.
The product's staunchest competition may come from rival Ironwood Pharmaceuticals. Marketing for Ironwood's peptide agonist Linzess focuses on the drug's indication in IBS. Amitiza's campaign, on the other hand, focuses on use of the drug in chronic idiopathic constipation (CIC), a different condition. Sales representatives will also tout the messaging.
And Sucampo may not be the only drugmaker hitting the airwaves with a constipation-oriented campaign for long. Salix's constipation drug, Relistor, received approval Monday to expand its label for use in patients on opioids for chronic pain unrelated to cancer. (It's not clear whether Salix plans new consumer advertising.)
An important reason for the late lifecycle push: Sucampo is reliant on Amitiza's sales for most of its revenue, said Greenleaf. Sucampo receives product royalties on Amitiza sales from Takeda, its commercialization and development partner. "Our pipeline and growth of our pipeline is funded primarily by that revenue, [so] making sure that Amitiza continues to be successful is absolutely critical."
Complementing the DTC advertising, Sucampo and Takeda recently switched from an in-house sales force to a contract sales organization (or CSO), whose hired hands will be calling on "high volume pain specialists," Greenleaf said, "to primarily target the CIC area."
Scroll down to see the next article