February 01, 2012
Therapeutic Focus 2012: Cardiovascular
Download:

Cardiovascular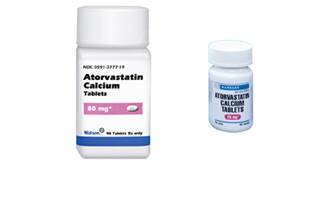 New cardiovascular treatments are gaining FDA approval as massive brands lose patent protection in the cholesterol-lowering, antiplatelet and antihypertension areas. Noah Pines on the potential of these new entrants to replace that lost revenue, and what this wave of approvals portends for an evolving sector
The cardiovascular category has grown and diversified of late, with two novel drugs and three new combination products. These brands could help supplement lost revenue from mature CV agents that have, or are about to, fall over the patent cliff.
Take Bayer's Xarelto (rivaroxaban), approved in July. Sales could hit $1.9 billion worldwide by 2015, predicts Bernstein Research's Tim Anderson, MD. It followed Boehringer Ingelheim's first-in-class Pradaxa (dabigatran), approved in 2010. As the FDA conducts a safety review of Pradaxa bleeding and heart-attack risks, it's set to decide in March whether a third oral blood thinner can come to market, Bristol-Myers Squibb/Pfizer's Eliquis (apixaban).
Easily the most important cardiovascular news of 2011, "We are seeing these new warfarin-replacing [agents] as a game-changer," says Leon Henderson, MD, senior analyst for Wolters Kluwer Pharma Solutions' inThought.
While the agents, which all minimize warfarin's dosing and monitoring challenges, are expected to eventually displace the generic mainstay, the battle for best-in-class should be a hot one. Each drug has strengths in specific indications: "In SPAF [stroke prevention in atrial fibrillation], we like Eliquis, but in ACS [acute coronary syndrome] it was a come-from-nowhere victory for Xarelto at the American Heart Association," asserts inThought director of research Ben Weintraub, PhD, referring to trial data discussed at the AHA meeting. "[ACS] is a billion dollars of revenue potential." Only Eliquis was shown to reduce risk of death vs. warfarin though.
With two orals in late-stage development—Daiichi Sankyo's edoxaban and Portola Pharmaceutical's betrixaban—the warfarin-replacement market seems well-served. Marketers' next step: broaden use of the drugs in areas like ACS.
Those efforts may be stymied, analysts say, by antiplatelet agents, like AstraZeneca's Brilinta, approved in July, which analysts think could hit $1 billion in sales by 2015. Other CV drugs sanctioned in 2011 include an addition to physicians' antihypertension arsenal: Edarbi, the new molecule from Takeda that is also available with a diuretic (Edarbyclor), and Juvisync, Merck's pairing of diabetes drug Januvia with simvastatin, for diabetics who need lipid lowering.
These newbies have a tough act to follow. Lipitor, which has been the world's biggest selling drug, brought Pfizer nearly $10 billion in annual sales before losing patent protection in November. Similarly, Plavix's (BMS/Sanofi) $8 billion and Diovan's (Novartis) roughly $4 billion in yearly sales are set to erode steeply as those two products hit patent extinction in May and September, respectively.
So for insurers and patients, CV disease will be collectively cheaper to treat in 2012. For branded drugmakers, it's another story. To defend market share, Pfizer reduced its price and has offered co-pay assistance cards. However, as of early January, Lipitor had already ceded 60% share to the two available atorvastatin copycats, Watson's authorized version and Ranbaxy's semi-exclusive one. Come June 1st, other copies are expected to drive its share even lower.
And don't look for Lipitor to go over-the-counter anytime soon, say experts—the FDA rejected a similar possibility for Merck's Mevacor. Also, a switch may not pass the muster of a more safety-conscious FDA concerned about untoward liver or muscle adversities.
But 2011's five CV arrivals—more than in any of the past seven years—bode well for potential CV blockbusters moving through pharma pipelines. These include cholesteryl ester transfer protein (CETP) inhibitors, designed to raise HDL or "good" cholesterol, and PCSK9 inhibitors, which may work with statins to lower uncontrolled lipids seen in a third of statin-treated patients.
Miller Tabak fund manager Les Funtleyder thinks a more moderate approval timeline awaits the CETP inhibitors, being developed by Merck, Roche and Eli Lilly; the PCSK9 inhibitors, led by Regeneron/Sanofi and Amgen; and mipomersen, the lipid drug that will soon be filed by Isis and Sanofi's Genzyme unit. "It appears to us that the pendulum swung too far to the [direction of] safety."
MM&M's Therapeutic Focus series will continue with April's look at metabolic products.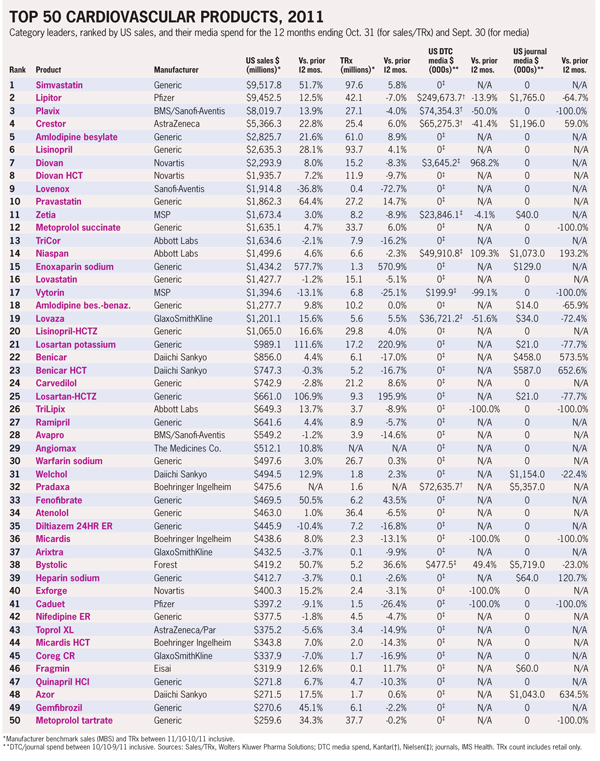 Scroll down to see the next article