June 05, 2017
Sunday at ASCO: What the latest trial data has to say about precision medicine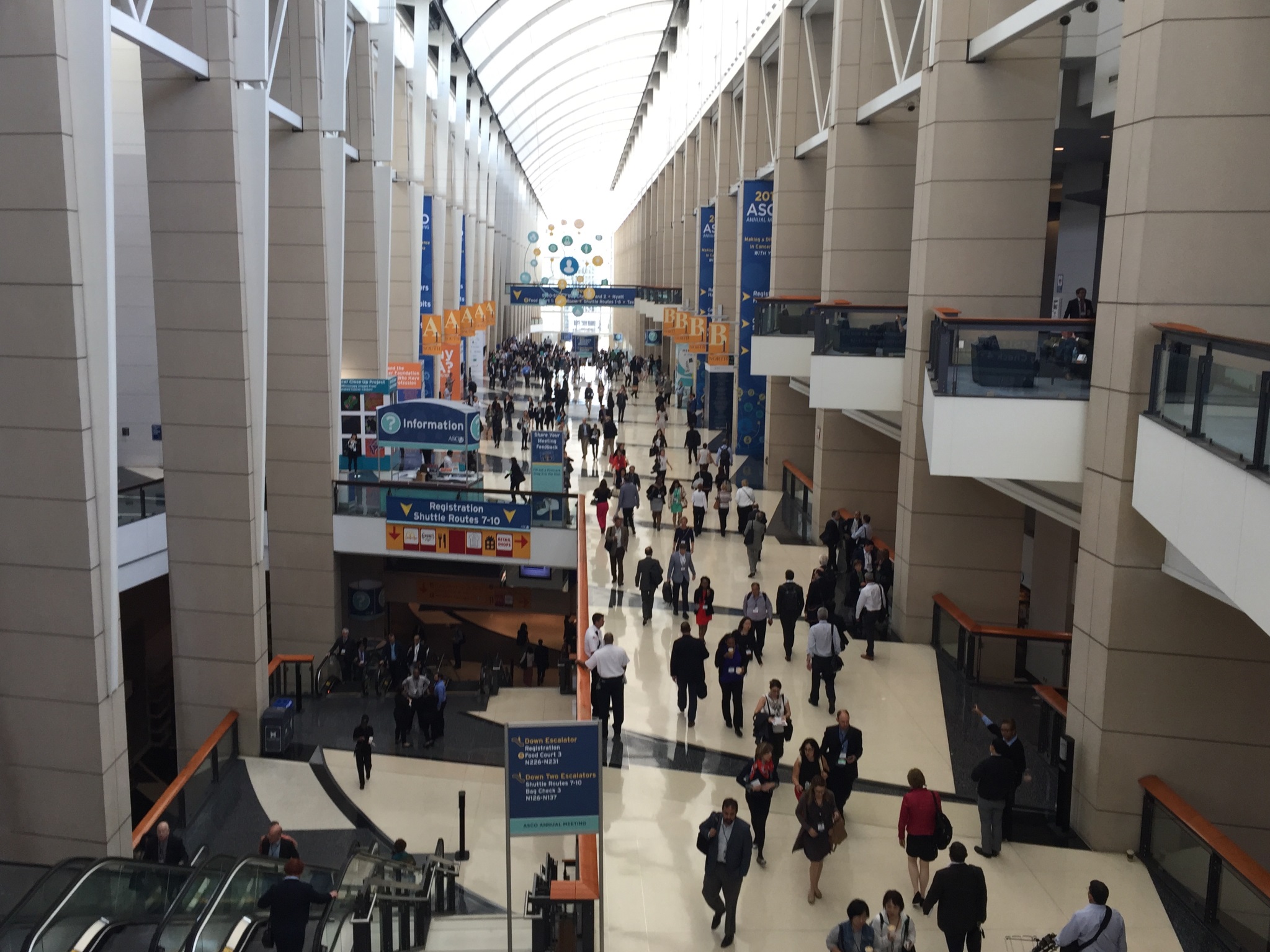 For all the talk of immuno-oncology combinations, new data from targeted therapies that treat patients with one rare genetic abnormality, prostate cancer, and breast cancer stole the show this weekend and indicated progress in the move toward precision medicine.
Here are three of the most talked-about clinical-trial results from the American Society of Clinical Oncology's annual meeting this weekend in Chicago:
AstraZeneca's Lynparza becomes the first PARP inhibitor to have data to support its move into other cancers.
AstraZeneca's Lynparza is the first of the three FDA-approved PARP inhibitors to demonstrate effectiveness in other types of cancers besides ovarian cancer. Lynparza competes with Tesaro's Zejula and Clovis Oncology's Rubraca in the PARP inhibitor class.
See also: Saturday at ASCO: Trial results reveal promising data for combo I-O drugs but no home runs
The drugmaker's Phase-III trial of 302 women with breast cancer found that those who received Lynparza were 42% less likely to have their cancer spread compared to those treated with chemotherapy. The patients taking Lynparza saw a three-month delay in disease progression, compared to chemotherapy, as well.
Notably, Lynparza was effective when treating triple-negative breast cancers in women with inherited BRCA mutations. This kind of cancer is "particularly difficult to treat and often affects younger women," said Dr. Mark Robson, clinic director of clinical genetics service at Memorial Sloan Kettering Cancer Center and the study's lead author.
Sharon Karlsberg, principal at ZS associates, too, said that this type of breast cancer is "historically very hard to treat."
See also: The immuno-oncology market prepares for the inevitable question: 'What's next?'
Lynparza was approved by the FDA to treat ovarian cancer in 2014 and saw sales of $57 million in the first three months of this year, a 30% increase from the same period a year ago.
Loxo Oncology's experimental drug is being tested in 17 different cancers.
Loxo Oncology, a small biotechnology firm based in Stamford, Connecticut, released new clinical data that may lay the foundation for the first targeted oral-cancer drug able to treat patients across different tumor types.
Loxo Oncology's experimental larotrectinib is meant for a small set of cancer patients, those with a genetic abnormality known as the tropomyosin receptor kinases gene. TRK is rare, but it "is hard to find a cancer type where TRK fusions have not been reported," said Dr. David Hyman, chief of early drug development at Memorial Sloan Kettering Cancer Center and lead author of the study.
See also: 2017 Pharma Report: All the data in one place
While the trial was small, consisting of only 50 people, the therapy was effective when treating most of the trial participants. Thirty eight, or 76%, out of the 50 patients in the trial saw their tumors' shrink. Those 50 patients had 17 different types of advanced cancer.
The drug received a breakthrough designation from the FDA in 2016 to treat both adult and pediatric patients with this genetic abnormality.
This new data add to a growing body of evidence that therapies can be used to treat a target beyond the location of the tumor. In May, Merck's Keytruda received a landmark accelerated approval from the FDA to treat patients with any solid tumor that were microsatellite instability-high or mismatch repair deficient, which are two specific genetic markers.
New data shows that Johnson & Johnson's Zytiga reduces the risk of death for men with prostate cancer.
New data found that Johnson & Johnson's prostate cancer treatment Zytiga allowed men with advanced forms of the disease to live longer.
See also: The FDA says Puma's breast-cancer drug is effective, cautions about side effects
Most prostate cancer patients initially take hormone therapy as a first-line treatment for the disease. The trial over 1,000 patients showed that taking Zytiga along with hormone therapy reduced the risk of death by almost 40% The study was funded in part by Johnson & Johnson.
"It has a strong chance to be practice changing because you're seeing a significant improvement without the toxicity of chemotherapy," said ZS's Karlsberg.
These results will likely be boon for Zytiga, which has already seen impressive sales, bringing in more than $1 billion in U.S. sales in 2016.
Scroll down to see the next article