November 11, 2015
Drugmakers eye market potential for lupus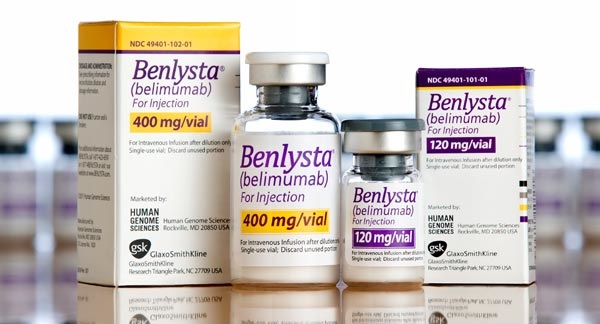 A new experimental monoclonal antibody developed by AstraZeneca is being watched as a possible contender to shake up the market for lupus treatments—a neglected disease space—by offering a more targeted approach to treating lupus.
Over the past 60 years there has been only one new FDA-approved treatment for the inflammatory disease: The FDA granted marketing approval to GlaxoSmithKline's Benlysta in 2011.
For decades before then a physician's medicinal arsenal against the disease largely consisted of using corticosteroids, antimalarials, immunosuppressives and nonsteroidal anti-inflammatory drugs—which seek to hinder the immune system's overall response—and are often likened to shooting a fly with a cannonball.
AstraZeneca reported positive results for its experimental drug, anifrolumab, on Tuesday during the American College of Rheumatology's annual scientific meeting. The drug blocks the interferon pathway, which is understood to play a central role in the disease.
The drugmaker announced that anifrolumab reduced disease progression for 34% of the 305 patients in its Phase-II trial and reported reductions in skin rashes and fewer swollen and tender joints. AstraZeneca started Phase-III trials for anifrolumab in July. If approved, anifrolumab would be the first new drug to treat the disease since GSK's Benlysta.
EP Vantage, a market research firm that is part of the Evaluate Group, expressed optimism for the drug's approval but cautioned that most forecasts for the drug are modest. "If Benlysta can achieve regulatory approval, then surely AstraZeneca's anifrolumab has a good chance," the firm wrote in an analyst note.
It's estimated that between 300,000 and 1.5 million people in the US are affected by lupus, according to the FDA.
AstraZeneca said during its defense against Pfizer's takeover bid that an interferon-based treatment for Lupus could potentially generate annual sales of $1 billion.
Genentech, too, has investigated the use of a monoclonal antibody with a similar mechanism of action to AstraZeneca's anifrolumab. Genentech's drug is called rontalizumab. But the company pulled it from clinical development in 2014, according to Nadine Pinell, a spokesperson for Genentech, adding that the company is not conducting any clinical trials for rontalizumab at this time.
Another drugmaker, Argos Therapeutics, evaluated an anti-interferon antibody known as AGS-009. The company did not return calls by press time. It's unclear if trials for the drug are still being conducted. The NIH clinical trial database lists only one Phase-I trial for AGS-009, which ended in January 2012.
Benlysta, GlaxoSmithKline's lupus treatment—and the first Lupus drug approved by the FDA in 60 years—has seen its sales creep upward this year. Benlysta generated $150 million in US sales so far for 2015. In 2014, the British drugmaker reported US sales of $155 million.
Despite the lack of options for the disease, some analysts believe Benlysta has not met commercial expectations—even as the drugmaker is investigating new ways to administer the drug, including a subcutaneous, or under the skin, formulation.
Sanford Bernstein analyst Tim Anderson wrote in a recent investor note that it is possible a new formulation of Benlysta "will finally deliver the goods as the intravenous form of Benlysta has been a commercial disappointment."
GlaxoSmithKline in 2012 purchased Human Genome Sciences—which developed Benlysta —for $3.6 billion. At the time of Benlysta's approval, GlaxoSmithKline was a co-marketer of the drug with Human Genome Sciences. The acquisition gave the British drugmaker full ownership of the drug.
Scroll down to see the next article