August 22, 2016
Long neglected, the osteoporosis market prepares for new entrants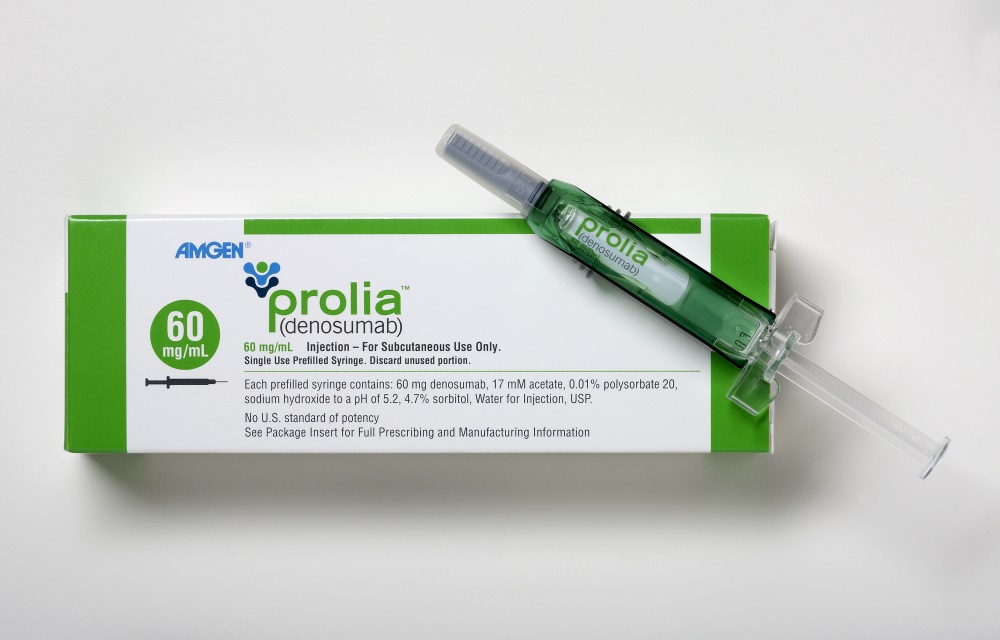 Amgen's osteoporosis drug Prolia is the category leader, projected to bring in $992 million in sales in 2016.
With a deeper grasp of the underlying causes of weak and brittle bones, the osteoporosis drug market is bracing for the advent of potentially game-changing treatments. "Much of the advancement in osteoporosis treatment has come from a better understanding of the disease," explains Nadine Leonard, chief strategy officer at Heartbeat Ideas. "We now know that it's not just about building bone mass, but also about slowing the rate of bone remodeling."
The few approved osteoporosis treatments in circulation today combat the disease's debilitating effects by either inhibiting the breakdown of bone tissue or increasing the rate of new bone formation.
Yet fewer than half of patients diag­nosed with it are being treated. "Osteoporosis remains one of the most neglected dis­eases in healthcare today, despite being recognized as one that can impact a woman's life," says Jen Fleishman, director of brand strategy at GSW.
See also: Top 25 women's health products, 2015-2016
According to Fleishman, the realization that so few patients are receiving treatment has made a significant impact on the decision to treat. One of the biggest obstacles is the long list of side effects that have become associated with such oral bisphosphonates as Merck's Fosamax and Genentech's Boniva. The biggest concerns are the perceived risks of atypical femoral fracture and osteonecrosis of the jaw.
"While their occurrence is real, the perception of risk is much higher than reality," Fleishman says. "Misinformation drives patients to not treat a disease that could greatly impact their quality of life."
According to Leslie Sandberg Orne, senior partner at Trinity Partners, Prolia (denosumab) is the "biggest gun" now available for postmenopausal osteoporosis. "Having alternatives has been great for women with peri- or postmenopausal osteoporosis," she says.
See also: Bolstered by new data, Radius Health focuses on unmet needs in the osteoporosis market
Merck's odanacatib, an oral medication in completed Phase III studies for postmenopausal osteoporosis, selectively inhibits cathepsin K, the primary protein-digesting enzyme on osteoclasts during bone resorption. Amgen and UCB Pharma's monoclonal antibody romosozumab inhibits sclerostin, which may play a critical role in increasing bone formation and decreasing its breakdown. Radius Health's synthetic analogue of human parathyroid hormone-related protein (hPTHrP), abaloparatide, has completed Phase III trials for postmenopausal osteoporosis. It has been touted for rapidly building bone without inducing hypercalcemia.
Fleishman says those developing osteoporosis solutions need to offer HCPs improved efficacy, easy administration, and strong safety profiles, all with the goal of reducing the risk of potentially life-impacting fractures. Market entrants will face a higher safety bar than previously approved treatments, she adds.
Correction: An earlier version of this story incorrectly described the status of Radius Health's abaloparatide. The drug has completed Phase III studies for postmenopausal osteoporosis.
Scroll down to see the next article