July 13, 2017
Novartis' CAR-T therapy gets nod from FDA committee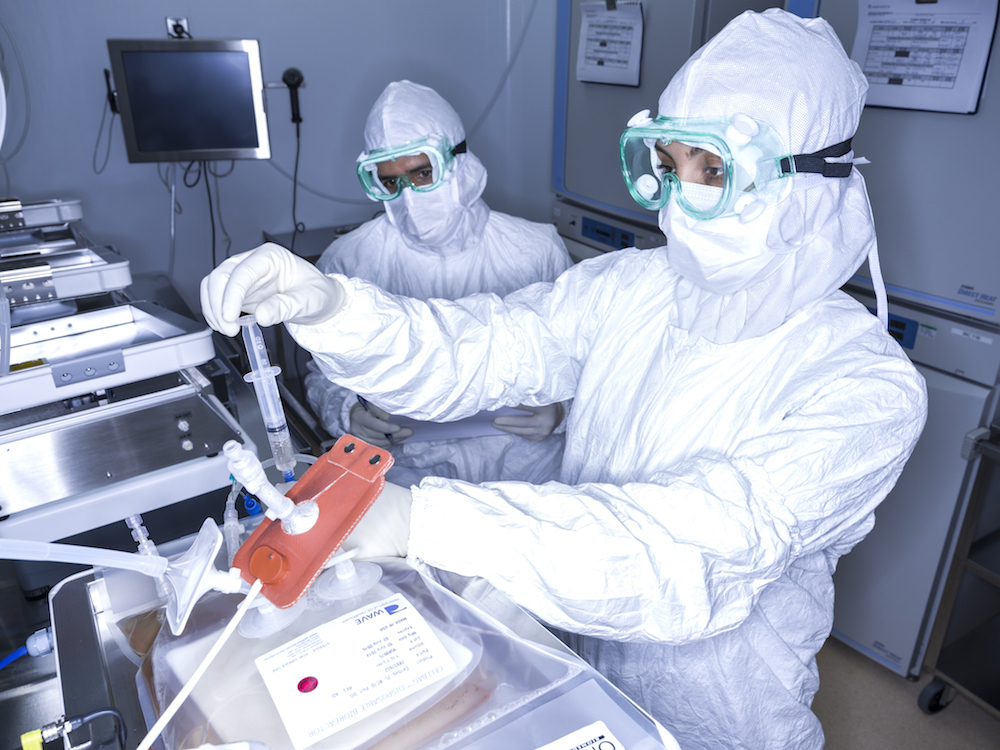 Novartis staff, working the company's product manufacturing facility in Morris Plains, New Jersey, process T cells before they are shipped back to the patient for infusion. Photo credit: Brent Stirton for Novartis/Verbatim Agency
An FDA advisory committee voted unanimously in favor of the regulator approving Novartis' experimental CAR-T cell therapy, a move that signals the likely arrival of a dramatically new type of cancer treatment.
The FDA is not required to follow the committee's recommendation, but often does.
The therapy, CTL019, is being tested as a treatment for pediatric and young adult patients with B-cell acute lymphoblastic leukemia (ALL), which is the cause of one-quarter of cancer diagnoses in the U.S. for children under the age of 15 years old. ALL is the most common childhood cancer in the U.S.
See also: Novartis considers new sales model for experimental cancer therapy
Novartis is one of a handful of drugmakers, including Bellicom, Juno Therapeutics, and Kite Pharma, developing CAR-T therapies. Analysts and industry leaders are paying much attention to the experimental therapies, in part for their potential to battle hard-to-treat cancers.
The global CAR-T market is estimated to hit $8.5 billion by 2028, according to a report released in February by Coherent Market Insights.
But despite the financial promise, the commercial barriers are high for developers of CAR-T therapies. Some estimates have put the treatment costs of CAR-T therapies in the hundreds of thousands of dollars. And unlike other cancer drugs, which are taken orally or infused, CAR-T treatment is unique: A patient's immune cells are removed, frozen, and shipped to a manufacturing facility, where they are reengineered and eventually put back into the patient's body.
See also: Kite Pharma to keep anticipated CAR-T launch 'controlled' and targeted at certain hospitals
Novartis has made substantial investments in advance of the arrival of CAR-T therapies. In 2015, the company acquired a cell manufacturing facility in Morris Plains, New Jersey, and last year it said it plans to develop centers in Europe and Japan. In a news release, the drugmaker said that it "continues to invest in the necessary infrastructure for the potential commercialization of CTL019, including manufacturing and the establishment of a network of certified treatment centers."
In 2016, a Novartis exec told MM&M that the company plans to use a medical device-like sales model to market its CAR-T cell technology, which would rely more heavily on education for physicians than on detailing.
See also: CAR-T therapies: the future of cancer care, or an industry pipe dream?
Last year, when Kite hired Christine Cassiano its new SVP of corporate communications and investor relations, she said that communication around CAR-T therapies is "about making it relatable to patients. They have to be the ones to understand it. They're putting their lives in our hands. They need to be able to put their faith and hope in it and understand the science behind it. It's not just about about having a physician or academic understanding."
Part of Novartis' education effort will likely address safety concerns as several companies have reported patient deaths in clinical trials for CAR-T therapies. In a briefing document released Monday, most of the FDA's questions focused on CTL019's long- and short-term safety, according to Leerink analysts.
The FDA also discussed mandating a patient registry that would track patients for up to 15 years.
Scroll down to see the next article