June 04, 2017
Saturday at ASCO: Trial results reveal promising data for combo I-O drugs but no home runs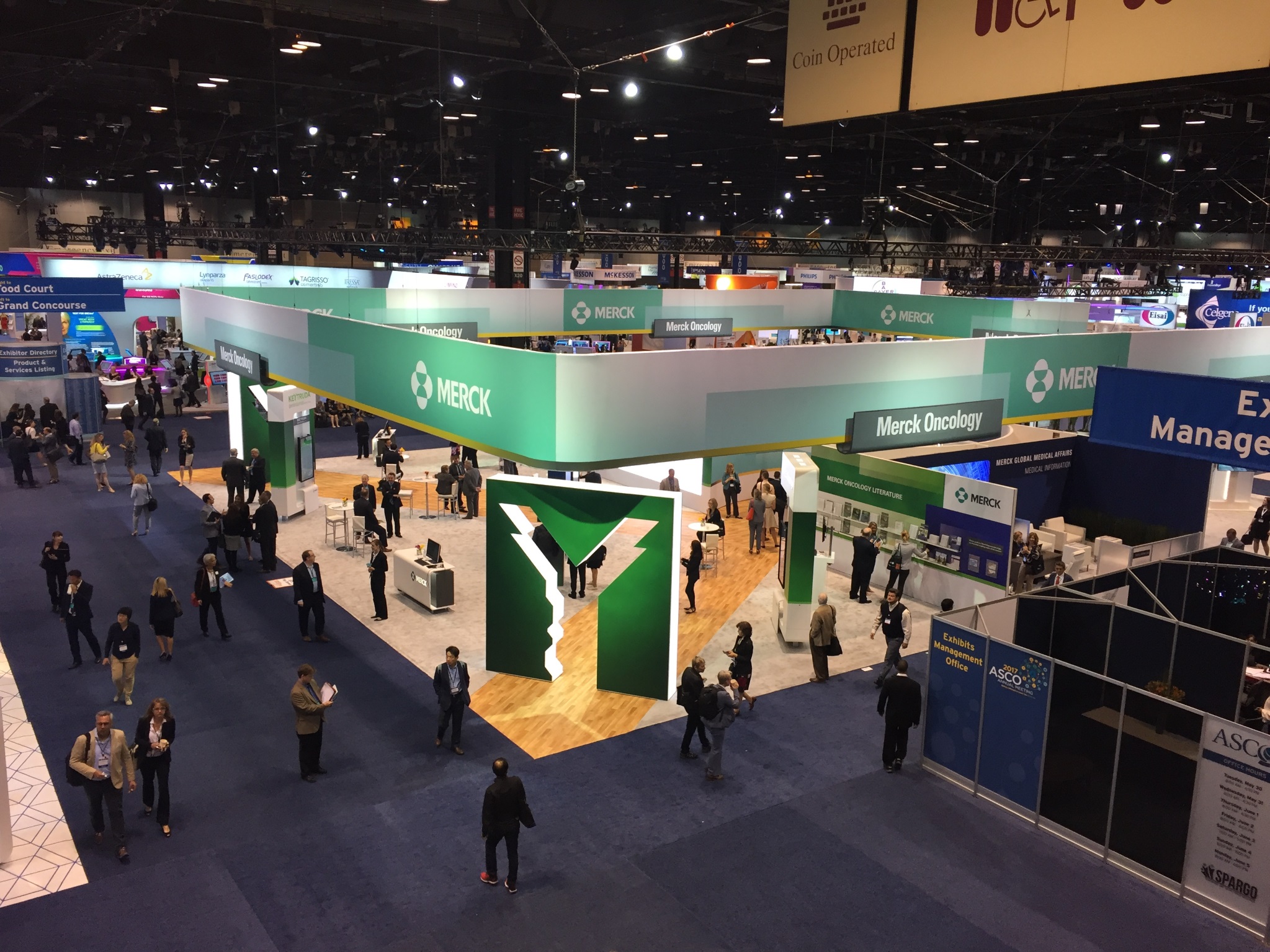 As thousands of people descended upon Chicago this weekend for the American Society of Clinical Oncology's annual meeting, some of the most pressing questions focused on how clinical trials treating non-small cell lung cancer with immunotherapy combinations featuring Bristol-Myers Squibb's Opdivo and Merck's Keytruda would shake out.
Why are drugmakers so eager to pair their immunotherapies with similar agents and chemotherapy? To hear Sharon Karlsberg, a principal at ZS Associates, tell it, it's because Opdivo and Keytruda are not exceedingly effective treatments for all lung cancer patients when looking at overall response rates, which measure how many patients in a given clinical trial saw their tumors' shrink.
"What we've seen historically is that single agent checkpoint inhibitors [like Keytruda] are very promising but we're seeing response rates in the late 20s to low 40s," Karlsberg said.
See also: The immuno-oncology market prepares for the inevitable question: 'What's next?'
"New strategies are needed," she added. "That's leading to investigations with multiple types of combinations."
On that note, here is what you need to know about combination immunotherapies, straight from ASCO:
The experimental combination of Keytruda and Incyte's epacadostat looks promising but is not a home run.
The trial pairing Incyte's IDO inhibitor, epacadostat, with Merck's Keytruda in non-small cell lung patients was one of the most closely watched results coming into this weekend. In a Phase-II trial, the duo showed a 35% overall response rate among patients regardless of their PD-L1 expression, which is an important bellwether for how immunotherapies like Keytruda perform in a given patient.
See also: The FDA says Puma's breast-cancer drug is effective, cautions about side effects
Efficacy, though, may not be the biggest takeaway for this therapeutic pair. The prevailing thinking is that with each additional immunotherapy given to patients comes a new set of safety issues. However, the epacadostat and Keytruda combo showed a consistent safety profile compared to Keytruda on its own.
"When we've looked at immunotherapy-immunotherapy, we sometimes see troubling tolerability [for patients]. If we can achieve improvement in response rates, without added toxicity, that's really promising," Karlsberg said.
Even outside its safety profile, the combo could find a niche in patients whose tumors have low expression of PD-L1. Credit Suisse analyst Vamil Divan wrote in an analyst note on Saturday that "this combination is showing increasing signs of being an important regimen in the future, especially in patients with lower levels of PD-L1."
See also: Opdivo bet backfires, creates opening for Merck to pursue DTC
Bristol-Myers Squibb's Opdivo and Yervoy combo reports high effectiveness — at a high clinical price.
The clinical-trial results of BMS's combination of CTLA-4 inhibitor Yervoy with immunotherapy Opdivo as a first-line treatment for advanced non-small cell lung cancer were mixed.
While the combination showed an impressive 75% overall response rate among patients with high-levels of PD-L1 expression, 36% of patients in the trial reported severe adverse events. "It's a remarkably high response rate," said Karlsberg.
She cautioned that there remains tolerability concerns, however. "The real question people are asking is if Yervoy is the optimal partner for PD-L1 immunotherapy," she said.
See also: Merck's Keytruda combo could edge out the competition
Divan, in the same analyst note, wrote about the toxicity levels may negatively affect the combo's uptake. "We have questions as to where exactly the combination will eventually fit in a rapidly evolving non-small cell lung cancer market," he said.
Scroll down to see the next article