May 18, 2017
Game Changers 2017: Tipping Point Media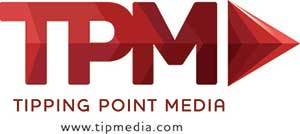 Looking back at formerly game-changing ideas, name one that you had high hopes for, but did not work?
Google Glass is a prime example of technology being ahead of its time, but ultimately failing to gain traction. While the concept of the physical unit failed for multiple reasons, its healthcare implications lived on and ultimately evolved into the rapidly expanding markets of augmented, virtual, and mixed reality. Each of these technologies have very exciting applications depending on the intended market audience.
William Garner, CEO and chief creative officer
---
FAST FACTS
Address: 1595 Paoli Pike Suite 202, West Chester, PA 19380
Website: www.tipmedia.com
Email: garnerw@tipmedia.com
Year Founded: 2003
Employees: 35
Sample Clients: Johnson & Johnson, Genentech, Amgen, Teleflex, Philips, 3M
New Business Contact: William Garner, garnerw@tipmedia.com, and Sean Purcell, purcells@tipmedia.com
COMPANY PROFILE
Tipping Point Media (TPM), headquartered in West Chester, Pennsylvania, delivers award-winning, interactive training and digital marketing. We specialize in the development of some of the most technically advanced, engaging, and measurable solutions in the pharmaceutical, medical device, and biotech industries.
Our promise: Our team of educators, medical experts, certified programmers and digital artists are dedicated to revolutionizing the learner's experience. It is our promise to achieve effective and proven results through the power of collaboration.
CORE CAPABILITIES
Custom iPad applications and algorithms — 3D interactive MOA/MOD medical animations (marketing and training)
3D medical procedure and surgical simulations (iPad, android, and browser)
Augmented reality
Virtual reality 3D simulations (Oculus Rift)
Digital magazines (branded and non-branded)
TPM CAMPUS — virtual university (marketing and training applications)
Gamification — 2D and 3D simulations
Patient and HCP education
Branching logic strategies/scenarios
For a complete list of capabilities, view our demo reel by visiting: www.tipmedia.com/Demo-Reel-2016.
Scroll down to see the next article