August 29, 2014
Wearable Devices: Thinking Beyond the Backend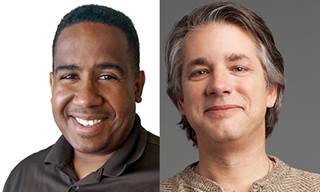 The intersection of technology and health is now one of the biggest arenas for innovation in our time. Connected communities, virtual hospitals, smartphone diagnostics… we have entered an age of empowered and extended medicine. And the effects are far-reaching—some estimate millions of lives are being saved in the underdeveloped countries.
Now you are data
With wearable technology, digital health has moved past content we can search, share and engage with to something far more personal—defining ourselves as the data that we track, analyze and share. From the FitBit to AliveCor, there's no shortage of wearable devices—fitness bands, watches, blood pressure (BP) cuffs, finger trackers, contact lenses, sensors we attach to ourselves. There are hundreds out there now and more in the pipeline.
The span of biometrics that can be tracked through wearables is wide-ranging and there's tremendous potential to meaningfully impact people's lives.
Have a heart condition? When your heart rate suddenly climbs, your device can instantly notify family, friends or even medical services of your distress. The GPS locates you, sends your coordinates and guides help right to you. And the medical professionals already have your EKG, blood pressure and other vital signs.
Are you diabetic? No more pricking your fingers. The device can monitor your blood sugar and alert you if necessary. Over time, the tracking and analysis can teach you better nutrition and fitness habits.
Having a drink or two? The device can monitor blood alcohol and let you know when you are impaired. It can also cut off your car's ignition switch, and even call you a cab.
The backend on wearables has been the defining drawback and the big focus of attention. Wearables are fragmented, with each device requiring its own mobile and/or desktop application to run, sometimes more than one application. The apps don't yet work with the rest of your phone's capabilities. And sharing has been limited to showing someone your phone.
Enter Apple, Google and Samsung who grabbed the headlines in recent weeks with new and ubiquitous health platforms in our pockets. They solved (or are solving) the piece of the puzzle that's been missing: standardizing the backend offerings of tracking, presentation and data storage on the smartphones we already have.
Back to the frontend
Now it's time to turn our attention back to the frontend wearables… because it's the devices that are the key to success for consumers and for data collectors.
The current wearables miss one big mark. Their single point of failure is…we must use the devices. And we, the people, are not in the habit of using things as intended, or correctly for that matter, over any period of time.
One answer is to turn "health devices" into "technology-enabled clothing." Not everything has to be a wristband, or a watch, or an obtrusive separate device. Let's infuse the technology into our lives in the most non-intrusive way, through our common and everyday practice to wear clothing.
Imagine sensors incorporated into a shirt to track blood pressure and perspiration to perform a chemical analysis of sweat. Currently there is tech in a workout spandex material shirt, and there is already a product that can be worn as an everyday t-shirt. The technology can be incorporated into almost any form of clothing; underwear, children's wear, swim suits, sleepwear and evening attire.
And this isn't limited to close contact with your skin. We can monitor your environment too. Multiple sensors on a firefighter's gear can pick up exterior conditions that are hazardous, alerting them to a potentially serious situation.
Break the Phone Connection
One step further and we can forget the required tethering to smartphones. Think about the potential broader use over WiFi.
Biometric diapers are in development that allow parents to monitor a sleeping child from another room—the clothes track a set of biometrics and give parents information on the activities of their child including estimates on when the child will wake up. You don't want to check your phone constantly—use WiFi and it becomes part of your home network.
A gym with WiFi access points can monitor everyone through their shirts; the facility knows who is there, what they're doing, can track vital signs and can tailor a workout plan to help each individual reach fitness goals. All without having to fill out forms or talking to a coach.
Police, firefighters and soldiers can have shirts that keep their teams and others informed of their physical state. Having the ability to know when a partner is in trouble and react accordingly.
Now that we—our physical selves—are the critical source data in health, a completely new generation of technology and application is opening.
---
Michael Matos, Jr., is VP, director of IT, and Rob Rothschild is SVP, strategy director, MRM//McCann.
Scroll down to see the next article