May 17, 2018
'When we look at health we have to unpack emotion': More soundbites from Transforming Health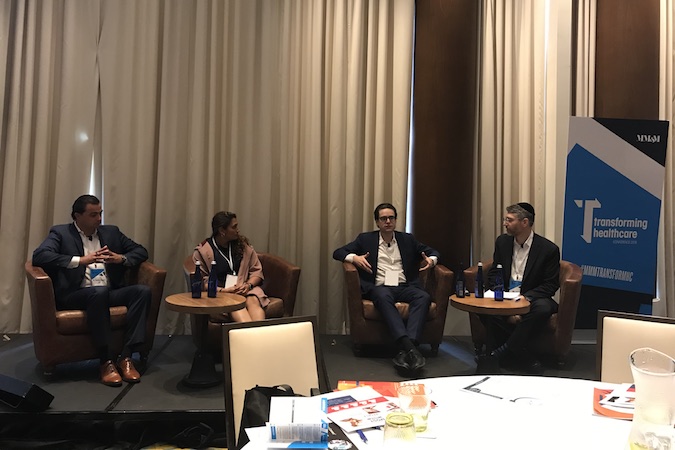 L-R: Dr. Theodore Search, Geeta Wilson, Clifford Jones, Marc Iskowitz
Expert panelists discussed their role in boosting patient-level outcomes at the MM&M Transforming Healthcare conference in New York on Thursday. Scroll down for bite-sized snippets of their conversation
Dr. Theodore Search, founder and CEO, Skipta
What physicians want is more simplicity when it comes to coverage. They want transparency when it comes to price rebates and how that constrains what they'll be prescribing. If they want to use a non-preferred method, how do they go about that process? Is it worth their time to be part of that process? Every patient is unique. You could have a patient that is on the same health insurer. Medication could be different for one patient on the same plan as another. Being able to tap into that and understand it at the point of care could be a big difference for practicing physicians.
Geeta Wilson, VP, consumer experience, enterprise transformation, Humana
When we talk about health, there's a couple things that cross my mind: the intersection of health and behavior. We treat health as though it's rational and it's very emotional. Just because you know that smoking could cause cancer doesn't mean you stop smoking after 40 years. When we look at health we have to unpack emotion. You have clinical data, but you also have lifestyle data.
Clifford Jones, CEO, AllazoHealth
Before you get into why a patient isn't taking medication, getting into how you can predict it ahead of time is very important. If you wait until non-adherence already happens, intervention is much less effective. If you try to intervene with all the adherent patients, it would cost way too much money. If you can isolate the 15% who are adherent and at risk of being non-adherent, being very proactive with counseling communication, you may be able to keep those patient from becoming non-adherent much more effectively than if you waited for that to happen in the first place. This is one way that AI and predictive analytics is very important.
Scroll down to see the next article