July 02, 2015
Top 100 Agencies 2015: Siren Interactive
Download:

Siren.pdf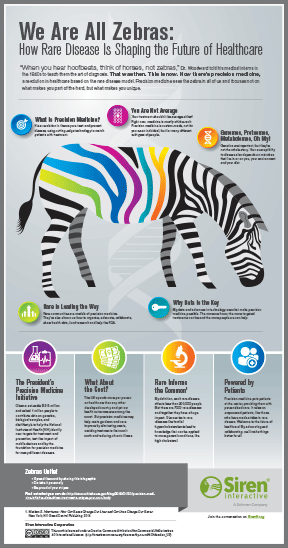 When Siren founder and CEO Wendy White bumped into Dohmen Life Science Services CEO Cynthia LaConte at an industry klatch last year, the conversation was, at least in theory, one between semirivals. Since 1999 Siren had been a rare-disease mainstay, understanding and taking advantage of opportunities within the space long before other firms got wise to it. Dohmen, on the other hand, had cultivated a reputation as a one-stop provider of marketing, technology and infrastructure services for drugmakers and ­entrepreneurs … with a lineage dating back to 1858, when Fredrick Dohmen opened an apothecary in Milwaukee.
As the two execs got to talking, they realized that their organizations were more compatible, and their offerings more complementary, than they'd thought. "The idea I got from [Cynthia] was to imagine if we added our strategy on to everything Dohmen can do, in the interest of serving patients better," White recalls. "If I believed what I'd been saying all these years about the patient being paramount, it made a lot of sense for us to be a part of that wraparound, white-glove service that Dohmen offers. They've been asking the same questions we have: 'What can we do to make this a better [healthcare] system and a healthier world?' "
Dohmen's acquisition of Siren was announced at the very beginning of 2015. The Siren brand remains separate from Dohmen's other holdings—nearly 10 of which were snapped up in recent years, all with the aim of servicing biotech companies hoping to play in the burgeoning rare-disease space. "We were the last one in the door, so we knew they knew how to integrate somebody new," cracks White, whose business card now reads SVP, rare diseases, DLSS and president of Siren Interactive. Head count is down a bit from last year's total of 34, but that's because some Siren staffers have been shifted under the parent-company banner. Revenues stayed about the same as the previous year's, at around $8 million.
When White looks back at 2014, then, she does so through the lens of what followed. That said, Siren had plenty to crow about on the new-business front, with new work from Genentech, PatientsLikeMe and Cydan Development spinoff Vtesse. It was the launch of the latter entity, with its NIH Therapeutics for Rare and Neglected Diseases (TRND) and VC backers eyeing every move, that White singles out as a major accomplishment. "That's not the kind of work people know us for, but it came off really well," she says.
And while White and Siren had little to do with other companies entering the world of rare diseases, she admits that it was validating—and sometimes dryly amusing—to hear others talk about the segment as if it had sprung into existence sometime during 2014. "Of course it's a validation, but it's something everybody should know how to do," White says. Though the emergence of any number of would-be competitors was "inevitable," she believes that some of these companies are in for a surprise.
"I don't think you can be an 'overnight success' in rare disease. Having the experience makes a real difference," she explains. "You hear a lot of, 'If we can do [work on] a big disease state, it'll be even easier with fewer patients.' Well, a lot of the things you take for granted with a bigger [population] aren't automatic [in rare diseases]. With a smaller group of patients, everyone is watching what you're doing. It's not a selling opportunity. It's an oppor­tunity to provide support."
Scroll down to see the next article