January 05, 2015
Michele Polz: Top 40 Healthcare Transformers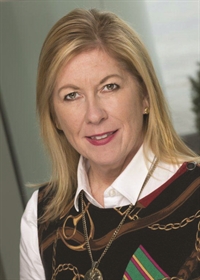 At Sanofi US, Polz opened up new pipelines for an organization challenged with thinking about the changing pharma model. In 2011, as AVP, patient insights & analytics, US diabetes, she was instrumental in helping Sanofi manage the inaugural run of its Data Design Diabetes Innovation Challenge, a competition to foster innovation and create new products and services for people with the disease. It goes without saying that pharma companies had not been conditioned to look outside their own labs for this kind of thing. "The traditional pharma model, as we recognized it four years ago, was broken, and we needed to think about how best do we approach the new business model," Polz recalls.
In six weeks—a nearly unheard-of time frame for the pharma industry—Polz and her team, led by then-VP, US Diabetes Dennis Urbaniak (see his write-up, below), launched the first challenge: to use data and design to find the next breakthrough for the millions of patients living with diabetes. "With zero paid media spend—just a website, a blog and a Twitter handle—we actually gained 19 million media impressions," Polz says, adding that the competition generated more than 100,000 submissions in a one-month period. Judges narrowed them down to five finalists and the $100,000 prize went to Ginger.io, a mobile tool for automated self-monitoring (see Anmol Madan's write-up, above). The winners also scored a one-month residency to further develop their prototype and put it in front of patients.
The DDD platform not only identified pockets of external innovation for Sanofi in the US, but also proved scalable and sustainable. Conceptualized as "a new way for industry to drive healthcare innovation," the project has lived up to its billing: The White House heaped praise on Polz's team, millions in VC money flowed to DDD participants, and other healthcare companies (Novartis, Janssen, Kaiser Permanente and Pfizer) launched similar programs. Look for Polz to bring that same change-management mind-set to Biogen Idec.
Scroll down to see the next article