February 06, 2012
Website development: 5 Steps to Walk the Web Walk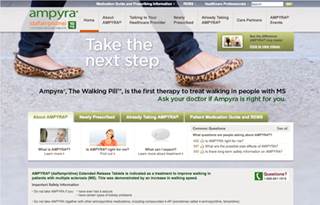 Click here to see all of the stories from the 2012 Interactive Guide
With 39% of online US adults and more than 80% of physicians visiting brand.coms*, the browser remains the workhorse of digital pharma efforts. Tanya Lewis finds out what makes a great site
Websites are critical marketing tools and yet too many brand, disease and pharma sites leave a lot to be desired. "At a basic level, they're like the price of entry," says Mike Myers, president, Palio. "Physicians and consumers expect them."
So what are the essential considerations?
1. Make it work on mobile. Around one third of US consumers visiting pharma sites are doing so via their smart phones, so it's imperative that sites are compatible. "If you're not designing for mobile, you're living in the past," says Ned Russell, managing director, Saatchi & Saatchi Wellness. And that likely means ditching Flash for HTML5.
2. Make it about users' needs. "It's not about you," Myers says. "Think how content applies to your prospect—physician or consumer." And you must impress them quickly. "The first thing visitors see has to intrigue them, and the site has to load fast," says Bruce Epstein, managing partner at RevHealth. "Make sure your message, and a compelling reason to stay, gets across in the first three to five seconds. Have a single objective and don't stray from it." And don't make them hunt for information.
3. Make it truly interactive. Risk aversion often leads many brands to create boring sites, but it doesn't have to be that way. Develop videos, games and platforms for sharing experiences—and update content regularly. In building a sense of community, Russell says, "the secret is designing something that gets to an emotional trigger."
4. Make it actionable for users. Include a strong call to action, suggests Epstein. "If the consumer takes part, then you know you got your message across."
5. Make it measurable. Russell says visits, length of time spent on the site and the number of visitors transitioned between brand.coms and disease.coms are good measures. Others include bounces between a website and Facebook, sign-ups, downloads and redemptions.

*Manhattan Research ePharma Consumer 2011 and Taking the Pulse® U.S. 2011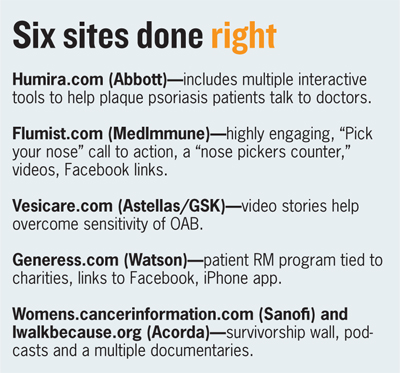 Scroll down to see the next article