September 08, 2009
Bayer touts glucose meters with Jonas-judged UGC contest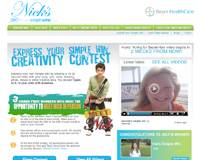 Bayer Diabetes Care is plugging its line of glucose meters with a new website and a contest offering kids with diabetes a chance to meet Nick Jonas of the Jonas Brothers.
Kids with diabetes aged 6-18 can enter the Express Your Simple Win Creativity Contest by submitting a 15- 30-second video containing their "song, lyric, story, drawing, photo, movie or other creative idea" about a "simple win," or "small, everyday victories for managing diabetes."
Each month since April, "Team Jonas" has selected three semi-finalists from which registered users have voted for a monthly winner, each of whom is required to submit a letter from their physician certifying that they have diabetes. At the end of September, Jonas will select three of them as grand prize winners.
The site,
simplewins.com
, offers videos and printable content on diabetes management for kids and adults with type 1 or type 2 diabetes. Visitors can set up email refill reminders and download coupons for test strips.
Bayer makes the Contour, Breeze 2 and A1CNow Selfcheck meters.
Scroll down to see the next article