February 14, 2013
Blood cancer charity in branding blitz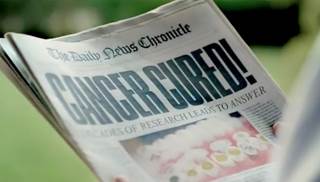 The Leukemia & Lymphoma Society is looking to raise its profile—and donations—with its first-ever large-scale ad campaign.
The multiplatform campaign aims to persuade the public that a cure for cancer—some cancers, anyway—is within reach, and that the society is leading the charge.
Dubbed "Someday is Today," the campaign, with creative by New York agency Interplanetary, includes a website and a combination of PSAs and paid TV advertising along with print and outdoor advertising. The 60-second TV ad opens with a voiceover: "You'll remember this day forever. You'll remember where you were. This day has never been closer." A man picks up a newspaper that reads "Cancer cured!" "Today, thanks to the Leukemia and Lymphoma Society, hundreds of thousands with blood cancer are living a normal life," the voiceover continues. "We've spent nearly a billion on cancer treatments once thought impossible. We're almost there, but we need your help."
The society is spending $5 million on paid ads, with PSAs worth $9-$15 million making up the balance. The campaign will run through the end of the year.
"Our objective is to build brand awareness so people have more knowledge of what we do and the impact of what we do," said Lisa Stockmon, SVP, marketing at the society. "It's telling our story in a humanistic and modern way that engages our 62 chapters and also provides a marketing umbrella for the Leukemia & Lymphoma Society, because we want to make sure people have an emotional connection and are aware of our role in the battle against blood cancers."
Since its founding in 1949, the society has spent more than $875 million on blood cancer research. Most of that has come in the form of academic grants, but in 2007, the society launched its Therapy Acceleration Program, through which they collaborate with biotech companies, investing in more advanced research.
"We've touched the discovery or development of nearly every blood cancer therapy," said Stockmon, "from targeted drugs like Gleevec, Velcade and Kyprolis to immunotherapies like Rituxan."
Seventy-eight percent of the society's spending goes to mission activities, said Stockmon.
The campaign's effectiveness will be measured not only by viewer engagement, but by donations.
"We have this notion we're not your grandfather's charity," said Stockmon. "We want you to invest in us and the work we do."
Scroll down to see the next article