October 11, 2012
Docs' presidential preferences follow practice type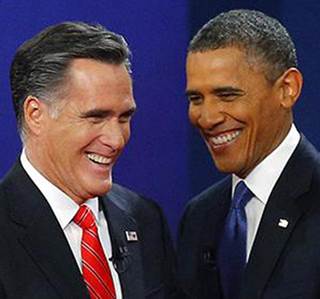 Solo practitioners favor Mitt Romney over Barack Obama by a two-to-one ratio, while their hospital-based contemporaries prefer the incumbent by a smaller spread, according to a survey by MDLinx. (To see the full survey results,
click here
.)
The poll of 4,681 US physicians found that while hospital docs surveyed preferred President Obama by a 10-point margin—47%-37%, with 12% undecided and the remainder supporting third-party candidates—solo practitioners favored the former Massachusetts Governor 58%-28%, with 11% undecided. Overall, doctors regardless of practice type preferred Romney 53%-33% for Obama.
Changes to reimbursement under Obamacare were a clear driver of solo practitioners' preference for Gov. Romney, said MDLinx marketing chief Stephen Smith.
"You could read it as saying that if you're just tasked with practicing medicine and you have little insight into the economics of it, you're more likely to vote for Obama because you're driven by this vision of getting everybody access to healthcare," said Smith, "while if you're involved in the business side as a practice owner, then your biggest driver is wondering how it works from an economic standpoint."
Follow-up interviews with oncologists, he added, found them deeply pessimistic about their prospects for continuing in private practice. One respondent commented: "I think if Obama goes through with his plan … there will be no doctors. No one is going to take on that liability if they are only paid as much as their nurse." Another said that "as a moral society, we need to take steps toward universal healthcare."
Surprisingly, said Smith, as a group, specialists didn't deviate much from the mean. Anesthesiologists were the most fervently pro-Romney (72%, to 12% for Obama), followed by gastroenterologists (52% for Romney, 21% for Obama) and cardiologists (51% Romney, 27% Obama). Oncologists were 11 points less likely to vote for Romney than the average, but only one point more likely to vote for Obama (36% Romney, 26% Obama). Of internists, the largest group surveyed, 48% favored Romney, 26% Obama, while the next-largest group, family practice doctors, came in at 48% Romney, 29% Obama. Docs with under five years' experience were considerably less likely to say they'd vote for Romney, though many remained on the fence or wouldn't name a preference.
More than a third said their vote was 'completely' or 'mostly' influenced by the candidate's healthcare policy, and of those, 57% said they would vote for Romeny and 20% for Obama. The survey, conducted in the last week, showed the impact of the Oct. 3 debate in Denver, where the president's performance was widely panned. Eighteen percent of those surveyed said the debate moved them toward Romney, and only 2% said the same of Obama.
Scroll down to see the next article